Artist and NFT fanatic Young Take off was debating where to get his first NFT of 2022. A marketplace full of lesser-known artists to the big, bad and heavy pioneers of the industry. There are many different strategies people take to work out which NFT they would like to go for. This could range from what is deemed financially smart, to genuinely finding the piece of art purchased beautiful.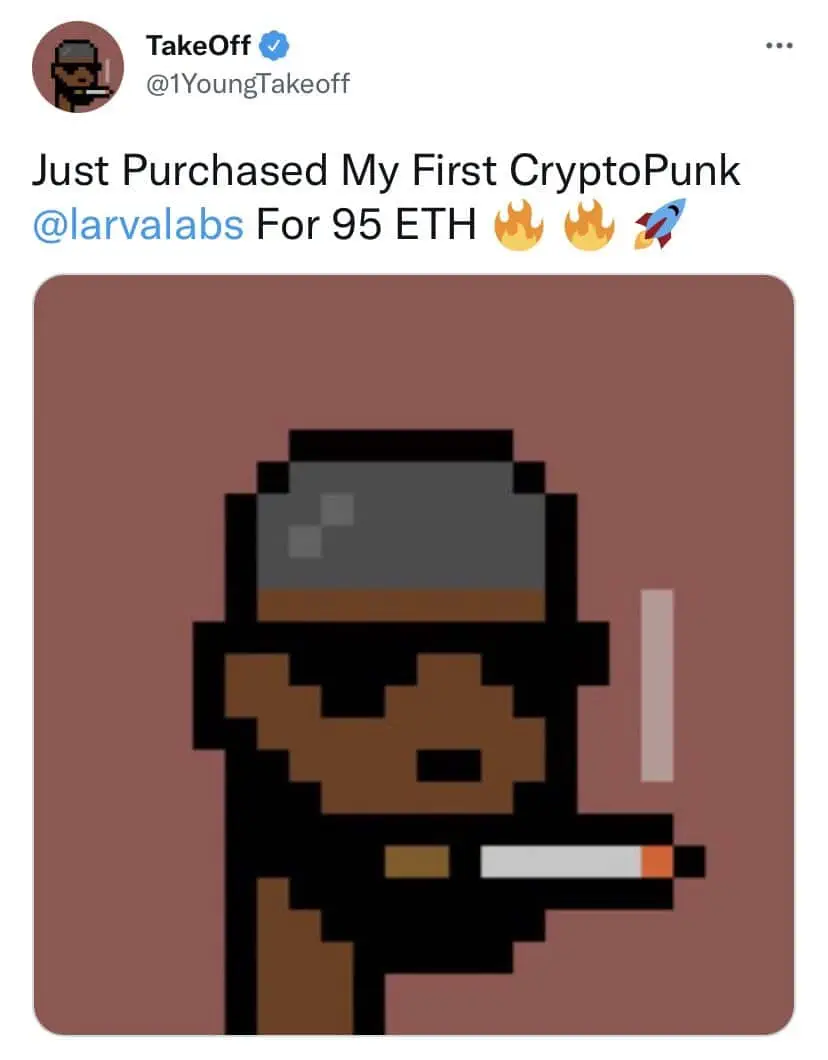 After much thought, Young Take off went down a safe road. He picked up a CryptoPunk NFT for 95ETH. CryptoPunks are the highest sold NFT collection on the first-ever NFT open marketplace OpenSea. For people that don't know, CryptoPunks are 10,000 unique collectable characters who live on the Ethereum blockchain. They are one of the earliest examples of non-fungible tokens, no surprise how iconic they are.
Interestingly, CryptoPunks inspired the ERC-721 standard that powers most digital art and collectables today. From being iconic pioneers to influencing technology, CryptoPunks don't seem to be coming to a halt. ERC721 is a more complex standard than ERC20, with multiple optional extensions. Also, split across several contracts.
Young Take off is the creator of Ape In Space. Apes in Space holders will be able to stake their NFTs in exchange for their native token $TKOFF, which is unique to their project. Following that, he would like to buy land in the Metaverse and host the first Metaverse hip-hop festival. Lastly, one lucky Ape in Space holder will join Take off on a real-life space journey. The winner will meet the Migos rapper and become the first person to orbit in space with him.
Good luck to Take off and his ambitious plans for Apes in Space.
---
All investment/financial opinions expressed by NFTevening.com are not recommendations.
This article is educational material.
As always, make your own research prior to making any kind of investment.