Hoard Exchange just launched an NFT Marketplace where users can use their NFTs as collateral for a loan. Users can either list their NFTs for trade or buy available NFTs from other users. The listed or purchased NFTs in the platform can then be used as leverage to make a loan. The platform currently offers digital arts, trading cards, in-game items and domain names.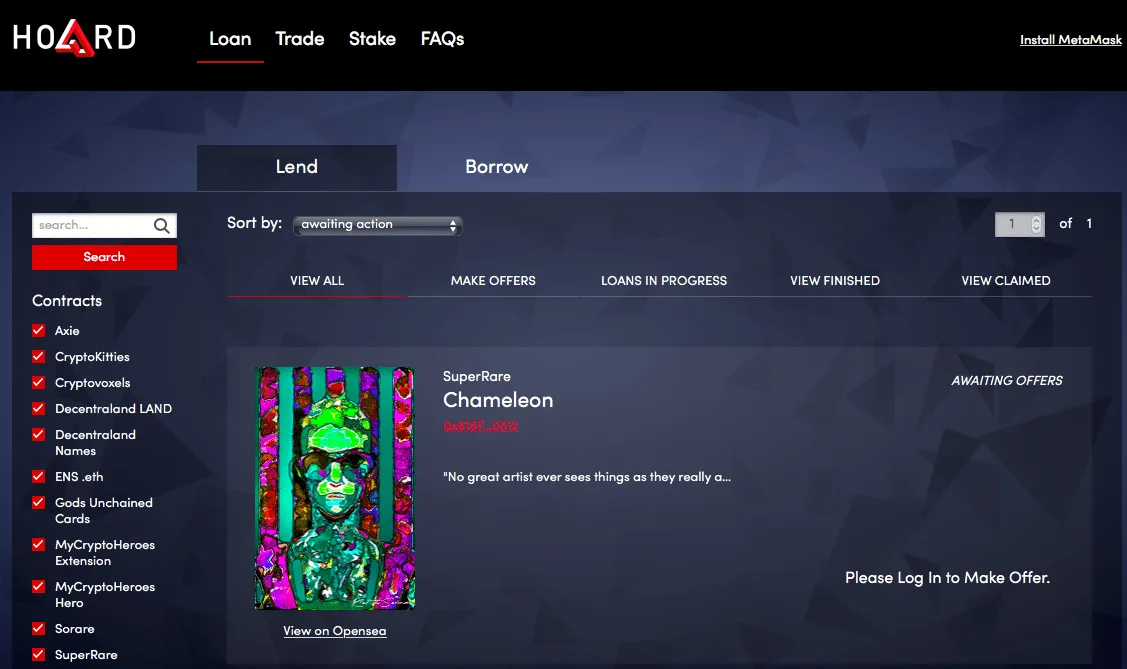 Platform to roll out other NFT-backed services
Hoard Exchange is an Ethereum-based Marketplace and peer-to-peer lending platform. Borrowers request a loan by listing their NFTs as collateral and Lenders make offers charging interests. As a borrower, users can build additional income with their NFTs. For the lenders, there is an opportunity to deploy their stablecoins to use and generate additional profit through interest. The platform also has a tool so lenders can acquire desired NFTs in case of a foreclosure. 
Apart from lending and borrowing, the platform also has a staking feature. HRD token holders enjoy lower platform fees. Users who will stake their HRD token will get back part of their platform fees in the form of staking rewards. 
The CEO of Hoard, Radek Zagórowicz, says that the Loans Feature "is the first step of further development of novel NFT functionalities / utilities which Hoard is going to introduce in the coming months." Both lending and staking protocol of the marketplace are now available. The platform will also roll out Trade, Build, and Rent functionalities. Build and Trade will be available by Q3 2021 while Rent and Governance will be live by Q4. 
Following the footsteps of Crypto Lending
Just yesterday, Canada-based cryptocurrency lending platform Ledn raised US$30 million in Series A financing with hedge-fund billionaire Alan Howard joining the ranks of participating investors. Ledn's success in the South American market confirms that like crypto lending, NFT lending can also be a game changer. There's definitely a lot of opportunities for growth and expansion. 
---
All investment/financial opinions expressed by NFTevening.com are not recommendations.
This article is educational material.
As always, make your own research prior to making any kind of investment.