In honor of Pride Month this June, Christie's is featuring the work of  18-year-old trans-NFT artist FEWOCiOUS. This makes him the youngest artist ever to join Christie's. The NFT Collection titled "Hello, I'm Victor (FEWOCiOUS) and This Is My Life" draws inspiration from his personal experiences and transformation.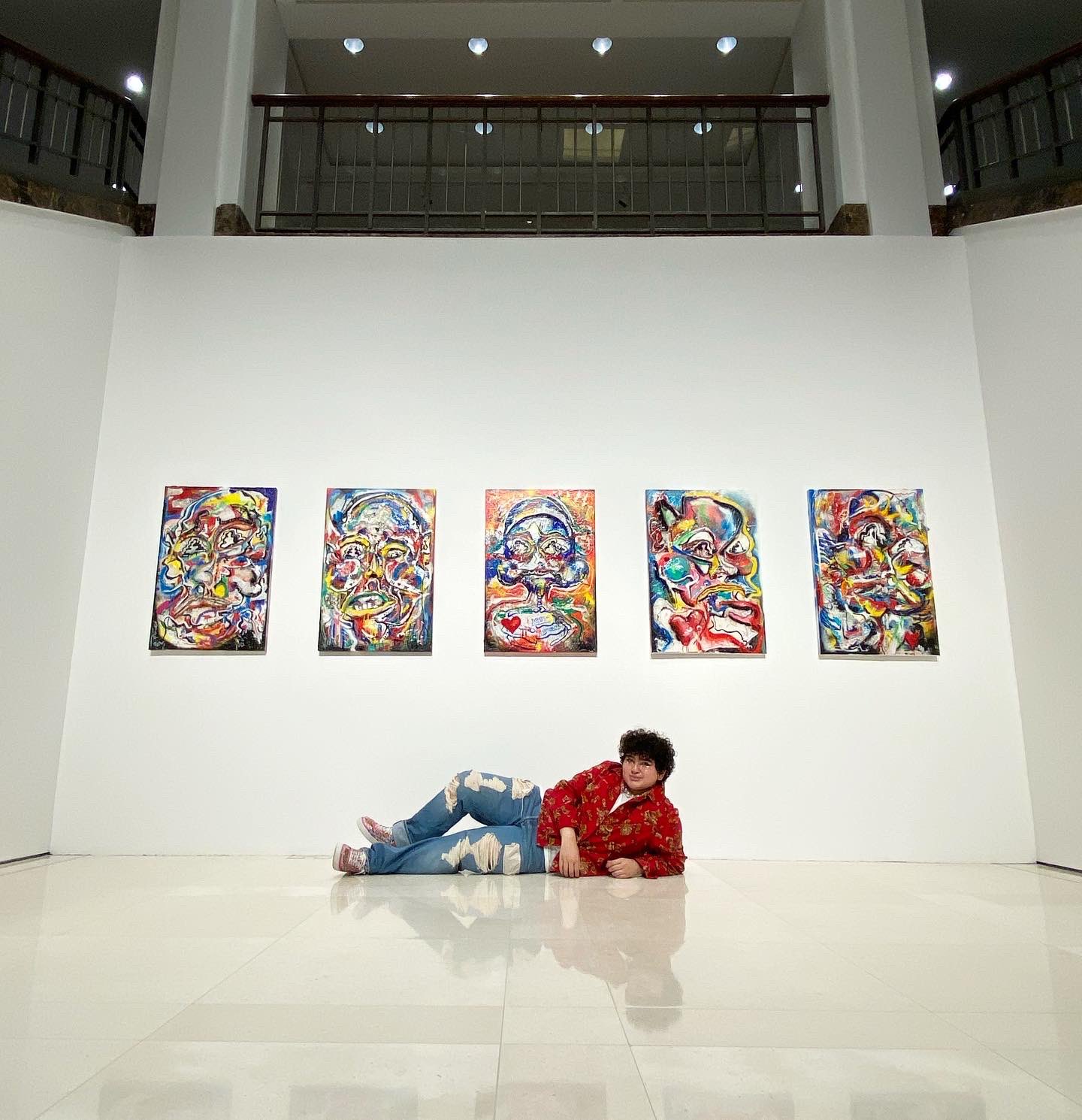 Meet Christie's Youngest Artist: FEWOCiOUS
FEWOCiOUS is at the forefront of the NFT Renaissance. To date, the Teen artist sold more than $18 million worth of NFTs. This figure comes from two drops on the leading NFT Platform Nifty Gateway. The first drop is in partnership with musician Two Feet while the other is a sneaker collaboration with RTFKT Studios.
Aside from his art, FEWOCiOUS is well-loved by the community for his inspiring story.  He started making art at the young age of 13. His digital art was a refuge and escape from an abusive and conservative household where he hid his true self. Fans and collectors find it endearing that NFT Sales gave him enough funds to move out of his childhood home in Las Vegas.
FEWOCiOUS' latest NFT project with Christie's offers five unique works that detail the last five crucial years of his life as he enters adulthood. The NFTs are accompanied by a physical painting alongside doodles, drawings and journal entries. 
The pieces capture his growth and transformation from Las Vegas to Seattle as well as Victoria to Victor. FEWOCiOUS is known for his otherworldly compositions in vibrant tones, often including writings about themes such as diversity and inclusivity. His latest collection at Christie's will showcase this trademark style and narrative.
FEWOCiOUS shared what this collaboration with Christie's mean to him. He said, "Art has become my best friend. Growing up Trans, I had no one to support me in my family; I hid in my room making art. When I felt scared, alone, dysphoric, and unheard, art was the only place I could vent about it. I cried when I first found out I have a Christie's drop. I get to finally come out to the world and share my story via my collection at an amazing auction house," 
Christie's Auction: The Reception so Far
Fans and Collectors flocked to the website wanting a piece of FEWOCiOUS' amazing talent. Originally, the auction was supposed to start on June 23 and run until 30. However, the website crashed moments after the auction was opened due to the traffic volume. The issue has been fixed and the bidding was restarted yesterday, June 25. With the attention it's getting looks like this NFT Auction is history in the making.
As part of the promotional campaign for the NFT Drop, Mr. Goodlife Farokh started and hosted a room on Clubhouse to celebrate Fewocious' work. It was a massive success with more than 2,000 people in and out of the room in a span of 2.5 hours. FEWOCiOUS penned an emotional message towards Farokh expressing his gratitude. He tweeted, " Farokh, thank you for hosting these tender conversations about my life, my world, my everything. You have made this journey so much less lonely and for that, I am so grateful. All my love to you brother & wishing you an awesome day!"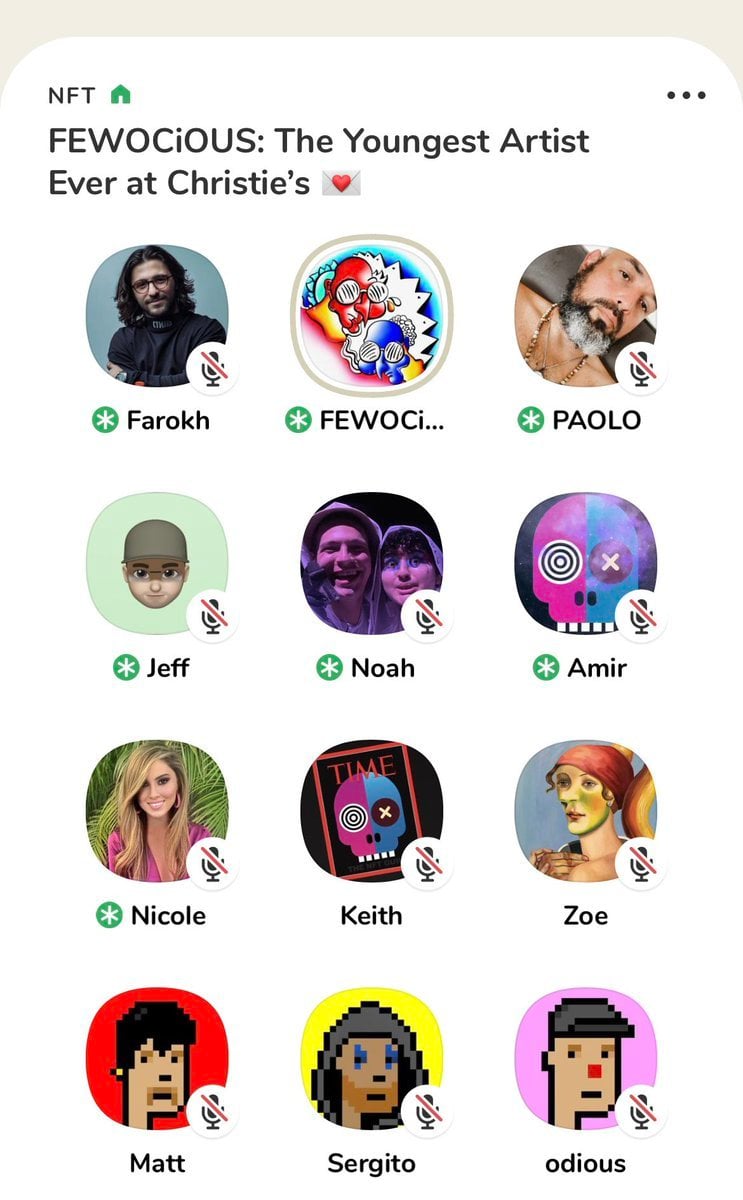 Hello, I'm Victor (FEWOCiOUS) and This Is My Life"
To raise awareness, FEWOCiOUS intentionally made the five pieces intensely personal. He said, "To be so young and to have this spotlight, not only in the NFT space but also the traditional art world… The world is seeing this, and it felt important to not come up with a story; it felt important for this big moment to be like, this is who I am."
The series' first work represents the year that FEWOCiOUS began to question his gender identity as Victor. He narrates,  "'Twelve and 13 were kind of a blur. I ran away from that bad household and I didn't really get footing until I turned 14. And that's when I really got into art heavily."Beginning as a way 'to avoid eye contact' at school, drawing and writing thoughts down became an outlet for what he was going through.
Meanwhile, Year 2, Age 15 — My Mama's Dream features a distorted figure holding a mask, which reads 'Hi!! I'm Victoria' and 'Am I pretty enough 4 you?' In Year 3, Age 16 — When A Child Feels Lost, motifs include a gravestone reading 'R.I.P No one knows your name'. 
At age 17, things started to turn around for  FEWOCiOUS as he discovered NFTs. He began minting works online and it was after his first drop on Nifty Gateway, he was able to move from his hometown, Las Vegas, to Seattle on his own and set up a studio. This independence is represented in Year 5, Age 18 — I Taught Myself How To Fly.
FEWOCiOUS' emotional appeal
Obviously, FEWOCiOUS is a one-of-a-kind talent.  However, his secret sauce is his narrative and what he stands for. As a result, he has the entire NFT community rallying behind him. His work is literally a pleasure and an inspiration to every aspiring artist. He is proof that community building doesn't only apply to NFT Projects. The aspirational aspect coupled with his breath-taking pieces leaves fans and collectors clamoring to join the auction. 
FEWOCiOUS also proves that it is important for fans and collectors to have a relationship with the artist. It is almost as if the entire community is giving him their blessing.  We all hear stories about how NFTs will disrupt certain industries but the story of FEWOCiOUS showed how NFTs could change a single person's life. This is the reason why the Clubhouse Room was very emotional and inspiring with some viewers even commenting, "is someone cutting onions in here?" 
The story of FEWOCiOUS introduces a humane element to NFTs. Furthermore, it elevates NFTs from being an innovation or technology into a means to touch and change lives. Much like how play-to-earn is putting food on the table for players in developing countries.
---
All investment/financial opinions expressed by NFTevening.com are not recommendations.
This article is educational material.
As always, make your own research prior to making any kind of investment.