S!NG App is an NFT Creator that helps artists easily create NFTs. S!NG is the world's first free mobile app designed to instantly mint NFTs. Simply uploading or recording into the app turns the content that users have contributed into NFTs.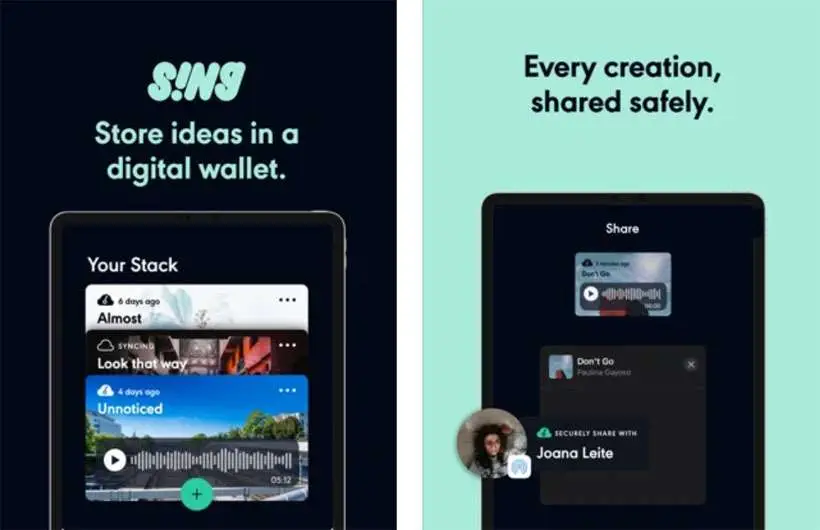 S!NG App as a built-in Intellectual Property Management System
Beyond being an NFT Creator, S!NG is actually an Intellectual Property Management System. To elaborate, users can upload any intellectual work on the app like an idea, melody or image. Then, users can invite other users to collaborate. The blockchain records all the updates instantaneously.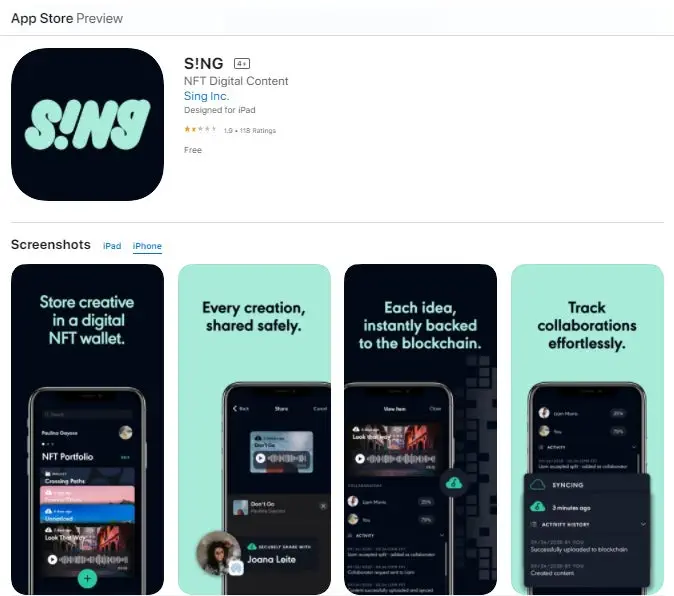 Interestingly, the solution was not really intended for the creative industries. However, they pivoted their business after seeing the need of artists. Geoff Osler, CEO and Co-Founder of S!NG asserted, "We found ourselves being brought more and more quickly into music where there are millions of more creators every day. Creating millions of files, whether it's TikTok or YouTube or just the traditional music industry and it's a massive multi-billion dollar industry."
Apart from the actual solution, S!NG is unique because it started using NFTs before the boom. The project began development three years ago so it was well ahead of the current NFT Craze. The team's lead developer determined early on that NFT was exactly the right way to create a digital object representing the intellectual property.
Birth Pains of a New Industry
As a new industry, NFTs are also going through birth pains, particularly copyright and privacy issues. For example, third parties can steal the work of an artist and sell it as NFTs.  
The majority of content creators still find the process of setting up a wallet and minting NFTs too complex. For this reason, S!NG pursued a centralized path instead of being a decentralized platform. This means that users can make an account with an email and password rather than holding their own keys. 
To explain this direction, Osler said, "It's important, I believe, for us to make this powerful technology available to people who aren't necessarily well steeped in crypto and understanding that there is a massive benefit, to give creators access to this kind of technology."
Osler clarified that S!NG being a centralized platform is only temporary. He is confident that users would eventually learn and be comfortable with the technology. So in essence, what the platform is doing is create an Ethereum wallet for the users that they can easily take back and bring somewhere else.
Better than Copyright
S!NG is providing a way for people to claim their intellectual property easily. However, using NFTs and the blockchain is a novel approach with little legal precedence. Osler is confident with their solution because NFTs fix some of the problems copyrights face. NFTs as an immutable asset make it harder for someone to come and dispute the origin of an artwork. In addition, unlike with standard copyright, the evidence backing the process completed over NFTs means every contribution is recorded.
ShapeShift's recent NFT reports suggest that issues with copyrights can be resolved by Tokenizing the IP like what Mozik NFT Platform is doing. New projects like S!NG App prove that the industry is still growing.
NFTs have proven their utility and use cases across different industries. Now the race is shifting to which platform can provide the best customer experience to attract the mainstream audience. S!NG platform is scoring major points in this aspect.
---
All investment/financial opinions expressed by NFTevening.com are not recommendations.
This article is educational material.
As always, make your own research prior to making any kind of investment.