Prepare for an exclusive digital collectibles extravaganza as three remarkable pieces from Nathan Sawaya's Transfiguration Series 1 are set to individually drop on VeVe, marking a highly anticipated event scheduled for Saturday, August 19, at 8 AM PT.
Leading this artistic journey is the talented Nathan Sawaya, an award-winning artist renowned for crafting awe-inspiring creations from the most unexpected sources. His globally acclaimed touring exhibitions, THE ART OF THE BRICK, are a testament to his ingenuity, featuring monumental sculptures meticulously constructed from toy building blocks, particularly LEGO® bricks.
TL;DR:
VeVe releases three digital collectibles from Transfiguration Series 1. Each individually dropping on August 19 at 8 AM PT.
Award-winning artist Nathan Sawaya, renowned for his LEGO® brick sculptures, collaborates with VeVe.
The drop features Sawaya's iconic piece "Red Reaching". This is an original sculpture made from 10,298 bricks, portraying themes of metamorphosis and transition.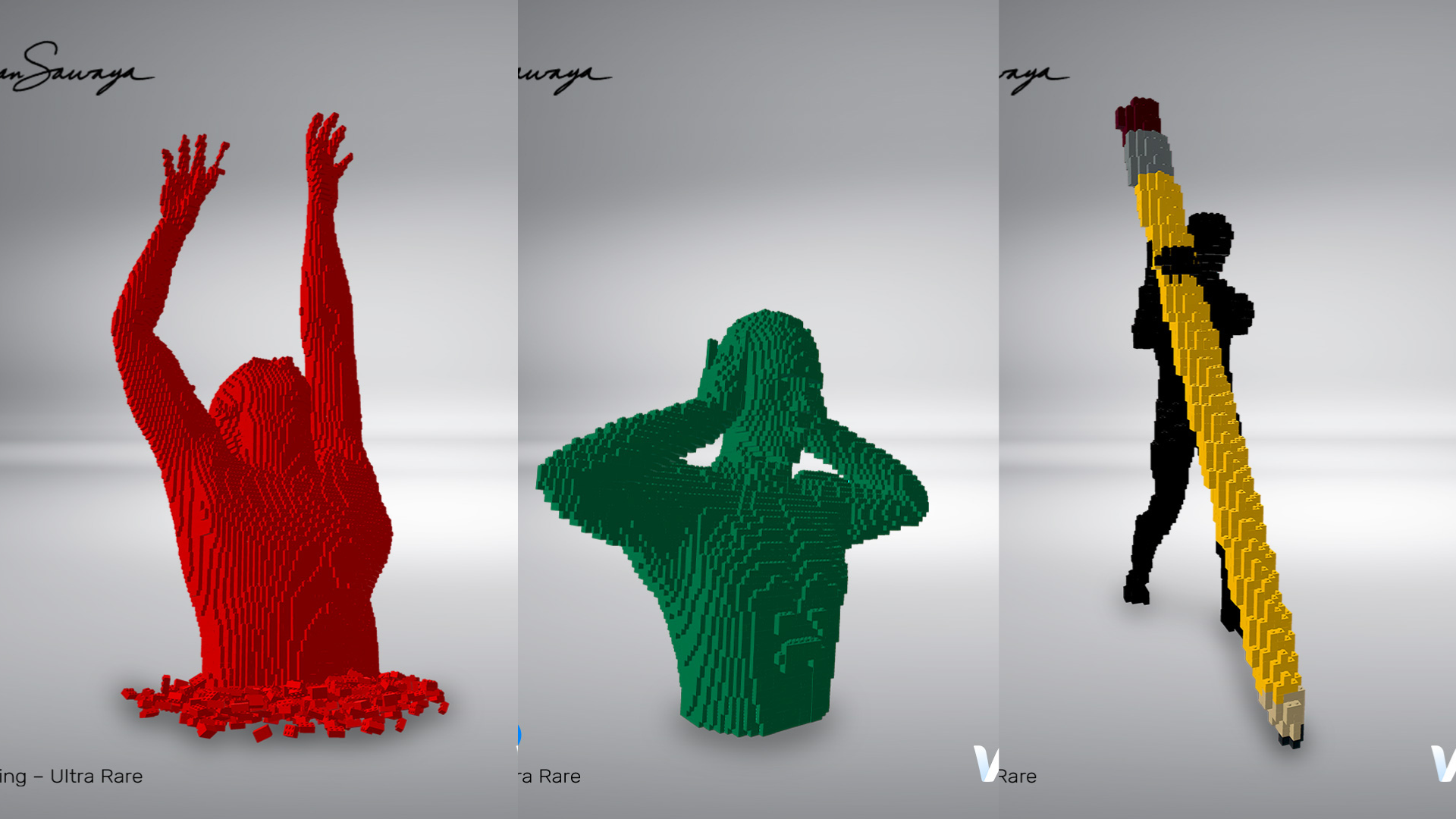 Nathan Sawaya's Foray Into Digital Collectibles
Sawaya's journey from a New York City corporate lawyer to a groundbreaking artist is nothing short of extraordinary. He stands as the pioneer who boldly introduced LEGO into the art world, authoring two best-selling books along the way. His exhibitions have not only broken attendance records but have also earned him numerous awards and honors. His distinctive approach to art melds Pop Art and Surrealism. This further showcases his masterful command over material, color, movement, light, and perspective.
It's worth noting that these unique digital collectibles are on VeVe under the license from Nathan Sawaya through ElmonX. Contrary to misconceptions, The LEGO Group is not directly associated with these VeVe products.
How To Collect Nathan Sawaya Art On Veve
For enthusiasts looking to secure their spot, VeVe's Waitlist feature will open 30 minutes before the drop times. Successful reservations grant users 15 minutes to finalize their purchase; otherwise, the reserved collectible returns to the public pool, available for direct purchase from the VeVe Store. Additionally, VeVe will retain 90 editions from each rarity for licensor, promotional, team, and comp distribution.
The centerpiece of this drop is "Red Reaching," an original sculpture ingeniously crafted from a staggering 10,298 bricks. This sculpture portrays a figure's torso, arms triumphantly raised above the head. It is constructed from vibrant red toy bricks. The artwork encapsulates themes of metamorphosis and transition. It also leaves observers pondering whether the figure is emerging from or merging into the surrounding loose bricks. This masterpiece, which holds historical significance as Sawaya's first solo gallery show sale, releases on August 19, 2023, at 8 AM PT, with a list price of $50.00.
Bringing together artistry, technology, and creativity, Nathan Sawaya's Transfiguration Series 1 drop also promises an immersive experience for collectors and enthusiasts alike. All while embracing the boundary-breaking spirit of contemporary art.
---
All investment/financial opinions expressed by NFTevening.com are not recommendations.
This article is educational material.
As always, make your own research prior to making any kind of investment.