The public sale for Flyfish Club NFTs recently sold out and sales on the secondary market are flying! The member's only private restaurant is the first in the world to sell its memberships through the blockchain. What's more, the fine dining and NFT venture comes from a new hospitality group co-founded by none other than, Gary Vaynerchuk.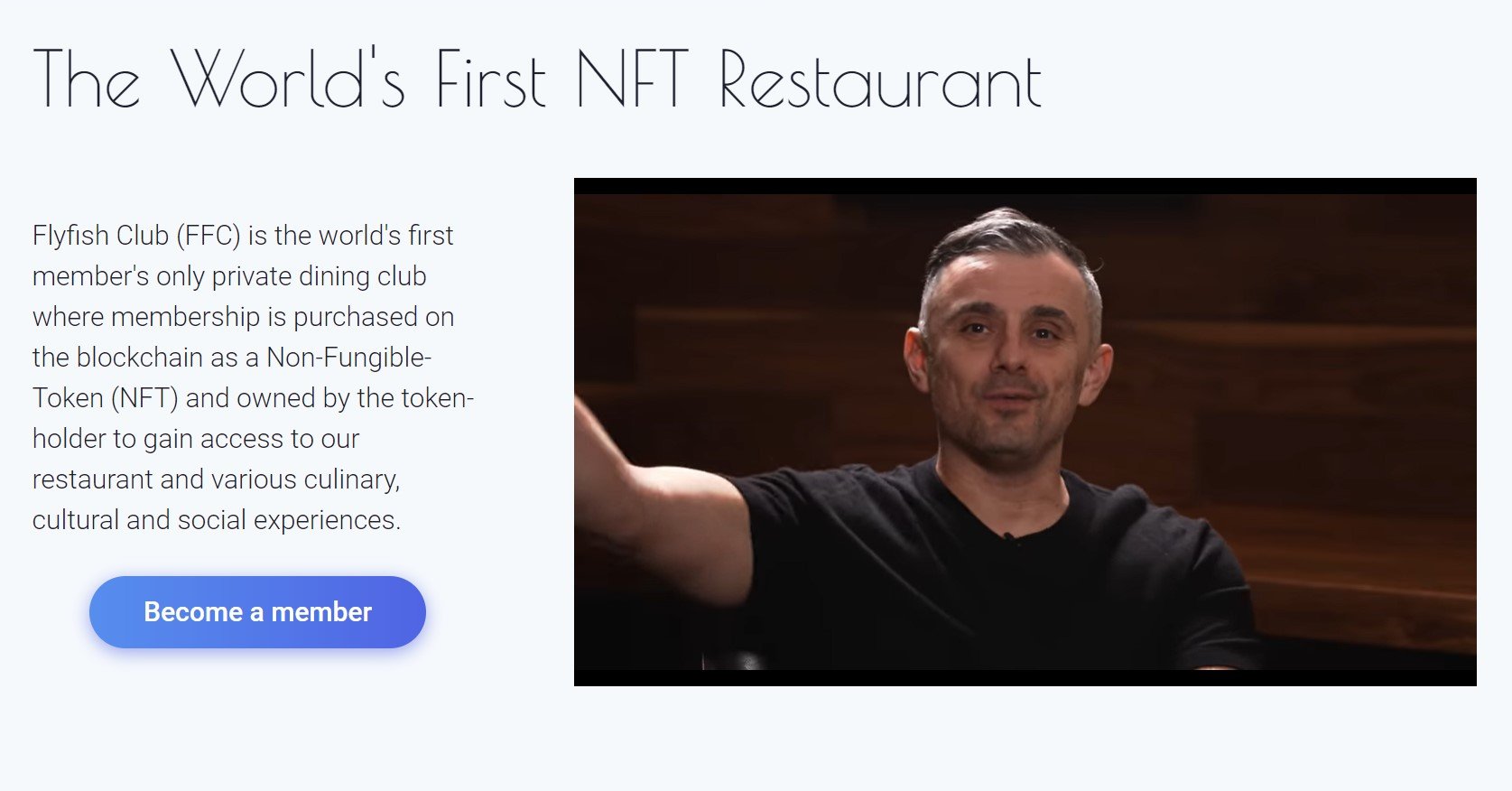 Flyfish Club Pioneers The Use Of NFTs As Membership Tokens For IRL Clubs
To sum up, Flyfish Club is a private dining club, professing to be the world's first member's only NFT restaurant. Its private presale for 350 NFTs took place on December 15th, 2021. While its public sale of 1,151 NFTs was a few days ago on January 7th.
There are a total of 3,035 membership NFTs, split into two tiers. To explain there are 2,650 Flyfish NFTs priced at 2.5 ETH. These NFTs give holders access to the Flyfish Club location in New York, as well as physical and virtual events.
On the other hand are the 385 Flyfish Omakase NFTs at 4.25 ETH. These have all the benefits of the Flyfish tokens while also including access to an Omakase experience curated by a master sushi chef.
At this time there are 1,520 Flyfish Club NFTs on OpenSea with less than 10% of them listed for sale and a floor price of 3.69 ETH. It's also important to note that Flyfish Club is holding 1,534 of its NFTs in reserve for future sales and partnerships.
Flyfish Club Is The First Offering From VCR Group
Joining Vaynerchuk on the founding team of Flyfish Club are hospitality industry veteran David Rodolitz, and renowned chef Josh Capon. Together with EVP of Operations, Conor Hanlon, they form the VCR Group.
VCR is a venture merging hospitality with modern technology. To that end, they are using NFTs as a new way of handling private club memberships.
In an intro video on the Flyfish Club website, Vaynerchuk says, "We're not a country club. You own it. Let's call it what it is, everywhere else, you rent. You pay an upfront fee and then you pay every year."
Of course, Vaynerchuk is alluding to the fact that the Flyfish Club NFTs give holders ownership of their membership. To illustrate, not only can holders sell their NFT – and thus their membership – on the secondary market, but they can also lease it out on a monthly basis. Thus, the Flyfish Club hopes to use NFTs to offer passive income opportunities to its members.
The Flyfish Club venue is set to open in early 2023, though NFT holders will be able to enjoy some benefits of membership starting next month.
Gary Vee Continues To Push Utility In His NFT Projects
As the creator of VeeFriends, Vaynerchuk has already had huge success as a founder in the NFT space. For one thing, VeeFriends is one of the most valuable NFT collections on the secondary market. Besides that, the collection has a number of utilities, most notably free tickets to the VeeCon event for three years.
Not to mention the Book Games NFTs that just launched. That collection was available to people who pre-ordered 12 or more copies of Vaynerchuk's latest book. In this case, utilities include a token swap for blue-chip NFTs, and even a chance to mint the hotly awaited VeeFriends Season 2 collection early.
All things considered, it's not like Gary Vee needed more to prove his hot hand in the NFT space. Nevertheless, Flyfish Club looks set to do just that.
---
All investment/financial opinions expressed by NFTevening.com are not recommendations.
This article is educational material.
As always, make your own research prior to making any kind of investment.