In a recent Twitter space, the Phunks NFT shiller, Ryder Ripps, accused BAYC of racism. Actually, he's attacking the core concept of the project. Yes, this is the same Ryder Ripps who made a sex tape with Azealia Banks. In a drama-filled twitter space with over 5,000 listeners Ryder's racism accusations caused a rift inside the NFT community. While some people were in support of these allegations, others considered them a hoax.
Do Ryder Ripps' Racism Accusations hold any Value?
Following the space closure, a trending hashtag about the Bored Apes and its allegedly racist connotations gained momentum. According to those making the claims, the primary connection to racism comes from the creator's name, Yuga Labs. Apparently, "Yuga" is the subject of white supremacist and racist caricatures found online. Several users also noted some of the traits and branding have resemblence to Nazi SS and alt-right symbolism.
On the other hand, fans and collectors of Bored Apes were quick to dismiss the claims of racism and fought back against Ryder Ripps.
However, some Twitter users have accused marketplaces of being biased since they removed Jungle Freaks over accusations of racism, but no step has been taken regarding BAYC.
Twitter user @moonOverlord said "going, to be honest, this BAYC drama just feels like a cheap marketing tactic from Phunks. It was cool when Phunks were anti-establishment, anti centralization, but at this point, they are just openly attacking the top NFT projects 1 by 1. I'm dumping all my Phunks, it's cringe."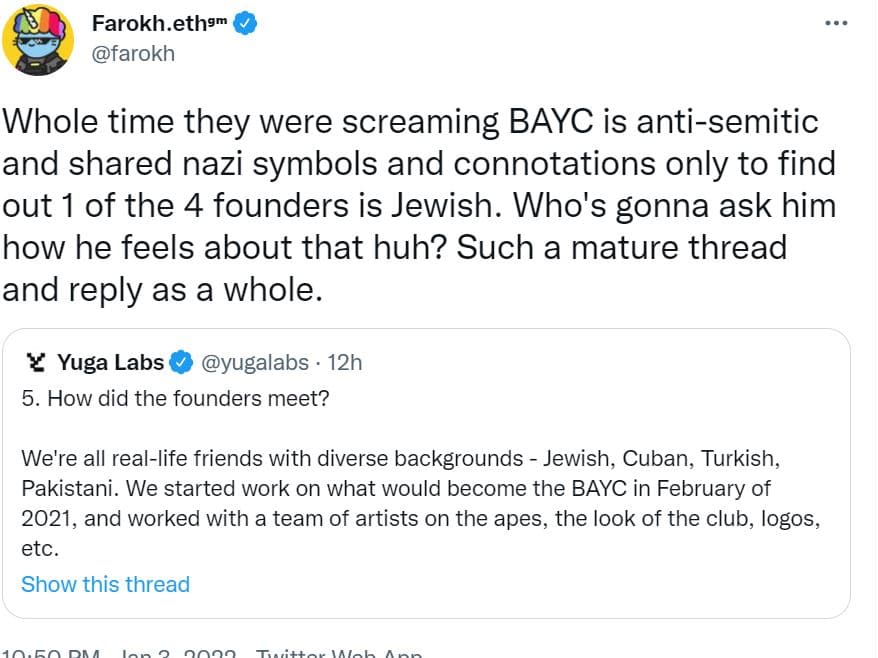 Less in response, and perhaps influenced by the situation, the Bored Ape Yacht Club founders released a long thread on Twitter explaining a little about themselves and how BAYC began.
Shortly after, Ryder Ripps turned on a number of other NFT projects, including the HAPEBEASTGANG and Jungle Freaks. Given the fact, Twitter users have extensively documented the Jungle Freaks controversy, it appears that no project is safe from Ripps at the moment.
Tables Turned against Ryder
While the whole debate was ongoing, Loopify posted a series of pictures and screenshots which portrayed Ryder as a "hypocrite". The NFT community claimed Ryder was "fat-shaming" and was being disrespectful to the Chinese community. Then, the American rapper – Azealia Banks, shared a post on Instagram saying Ryder's only concern is money.
In fact, Banks has made some serious statements. She said, "Then he gets upset about Beeple stealing the idea for some dumb collage and starts getting maniac about NFTs. Next, Ryder coerces me into putting the sex tape up because he's obsessed with shock value and clout chasing. Not only that, she added, "He says he wants to make a million dollars selling NFTs."
---
All investment/financial opinions expressed by NFTevening.com are not recommendations.
This article is educational material.
As always, make your own research prior to making any kind of investment.