In the final quarter of 2023, web3 gaming is far from obsolete. The latest DappRadar x BGA Games Report #20 confirms a pivotal moment in blockchain gaming and the metaverse. October also saw an unprecedented rise in blockchain gaming, debunking myths about the sector's decline.
Key Insights from DappRadar's Web3 Gaming Report:
Gaming's Impressive Leap: Blockchain gaming reached 1 million daily Unique Active Wallets (dUAW), representing a commanding 33% of the industry's monthly activity. This spike signifies not just survival but a burgeoning dominance in the Web3 space.
WAX and Celo Lead the Charge: WAX continues to be the top blockchain for gaming activity, with over 406,030 daily UAW. Furthermore, Celo witnessed a staggering 538% increase in gaming activity, spotlighting its rising popularity.
Alien Worlds Dominates: As the most used gaming dapp, Alien Worlds crossed 133,000 daily UAW, emphasizing the game's sustained appeal.
Vibrant Virtual World Markets: Trading volumes in virtual world dapps soared by 19% to $3.8 million. This, coupled with a 17% increase in land sales. This rise illustrates the sector's resilience and growth potential.
Investments Remain Strong: Despite a slight 4% drop from the previous month, October's Web3 gaming investments hit $154 million, underlining continued investor confidence.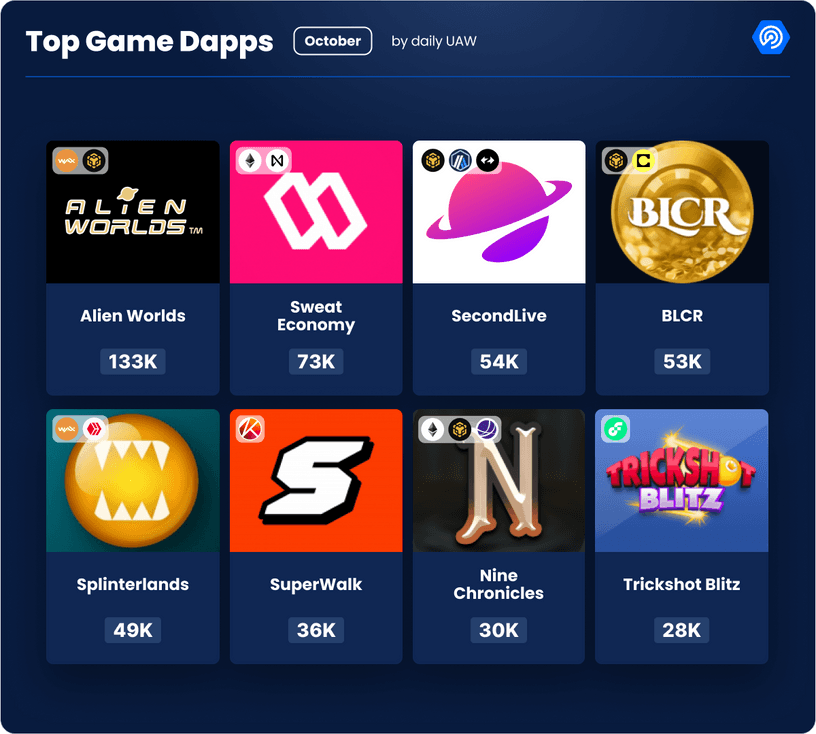 Strategic Developments:
Pixels' Move to Ronin: Pixels' transition to Ronin spurred a significant increase in Unique Active Wallets, highlighting the importance of strategic network choices in blockchain gaming.
Emergence of New Leaders: NEAR Protocol and Skale Network are showing promising growth, suggesting a dynamic shift in gaming infrastructure.
Conclusion:
As 2023 heads towards its end, the web3 gaming sector stands robust. It is also driven by innovative developments, strategic expansions, and unwavering investor interest.
The DappRadar report paints a picture of a thriving ecosystem, contradicting the notion that web3 gaming is fading away. This sector remains a vibrant and integral part of the Web3 narrative, poised for continued evolution and success.
---
All investment/financial opinions expressed by NFTevening.com are not recommendations.
This article is educational material.
As always, make your own research prior to making any kind of investment.