Play-to-earn games, also abbreviated to P2E are taking the crypto world by storm – but what are they? Well, these blockchain games are a source of major interest from companies, creators, and collectors alike. While it may sound too good to be true, you can now get paid to play video games! Yes, P2E gaming unlocked a new front for the industry. Earning crypto has never been so fun!
In this guide, we'll cover the basics of play-to-earn games. What they are, how they differ from traditional games, and why you should get involved.
What is a Play-to-Earn Game?
As you can easily guess from the name, a play-to-earn (P2E) game rewards players with cryptocurrency, in-game tokens, or even NFTs. What's more, the assets in these blockchain-based games – characters, weapons, and other accessories – are NFTs.
While most of the attention on play-to-earn games focuses on the earning, each other element is just as, if not even more important. To explain, because the assets in these games are NFTs on the blockchain, gamers can genuinely own their in-game assets. Not only can you get paid to play games, you actually own digital items like you could a physical item in the real world.
In other words, players don't have to worry about losing assets that they worked hard for because a game changes or goes offline. Not to mention that these assets can also be traded on secondary marketplaces.
How does Play to earn work?
Generally, play-to-earn games don't tend to reward players with the cryptocurrency of their host chain (e.g. ETH or SOL). Rather, these games will have special in-game tokens. Players earn these tokens as they play the game more, and can then use them to purchase other NFT assets in the game or even trade them for other cryptocurrencies or fiat currencies on decentralized exchanges (DEXs).
How to make money playing games
So, you want to get paid in crypto to play some awesome blockchain games?  Well, many play-to-earn games are totally free to start playing, while others require players to first invest in the NFTs needed to play. Others still are somewhere in the middle – allowing players to get started for free and upgrade using in-game tokens to get better assets or higher rewards.
By the same token, the rise of blockchain gaming guilds has created another avenue for gamers to get in on the play-to-earn phenomenon. How this works is that a guild will rent out game NFTs to players in exchange for a cut of their earnings.
The Best Play to earn games
As previously mentioned, play-to-earn games have exploded over the past year. As a result, there are countless play-to-earn games available today, with more and more popping up all the time. Here are just a few of the most popular play-to-earn games out there.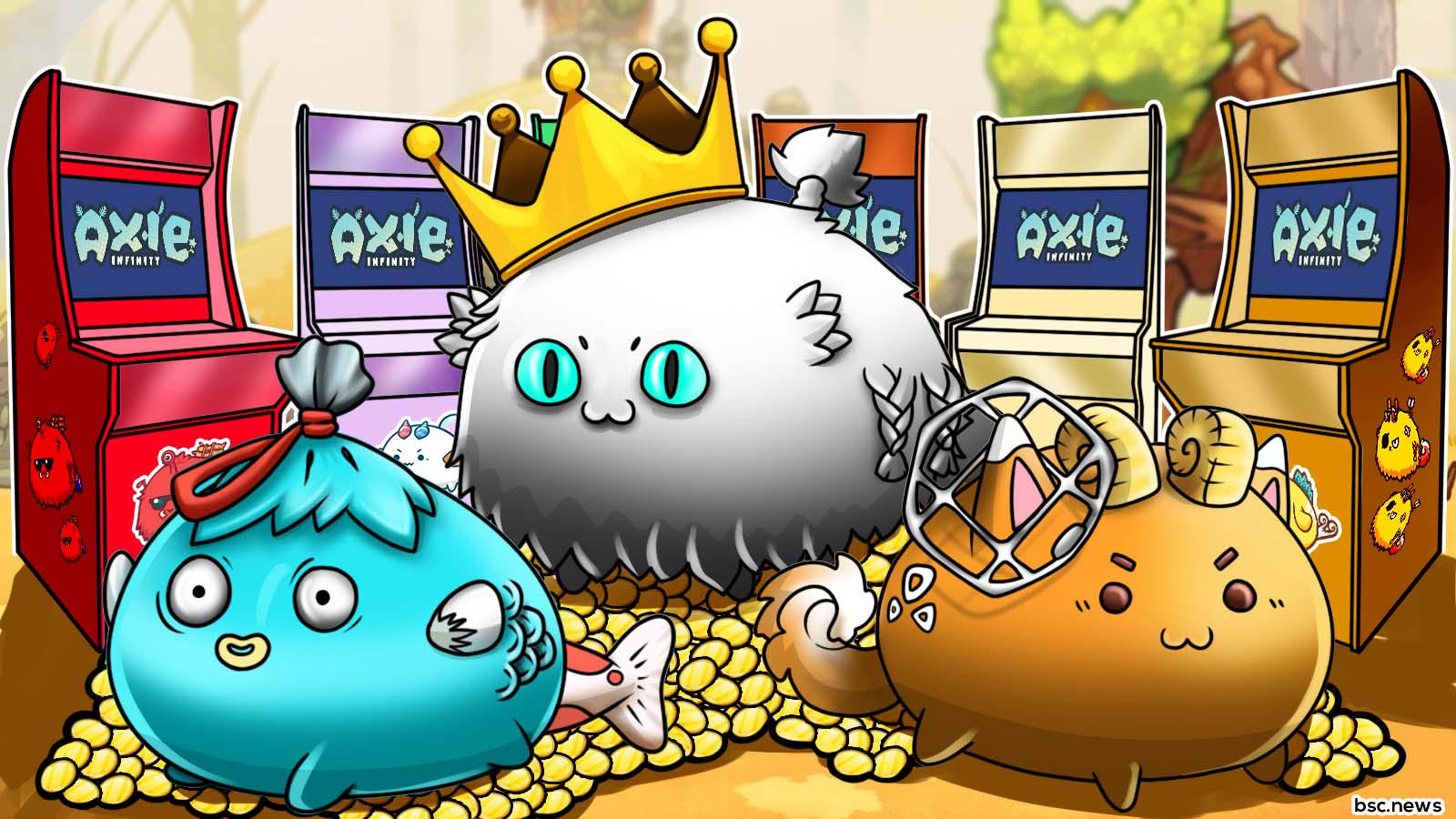 Axie Infinity – The first breakout play-to-earn game
To this day, Axie Infinity is still the first name that comes to mind when we talk about play-to-earn games. Indeed, Axie Infinity was the first P2E game to really break through in the NFT space. The game had around 2.7 average monthly players at its peak, crossing $1 billion in sales around August 2021.
With all that said, Axie Infinity has faced a ton of challenges as of late. From declining user numbers to the price of its rewards token, the Smooth Love Potion (SLP), tanking, to a historic security breach and theft. When Axie was once pointed to as the gold standard of play-to-earn gaming, critics now use Axie as proof of the long-term instability of play-to-earn games.
Despite these serious setbacks, Axie is still showing major signs of life. Certainly, its parent company believes in the future of the game, although notably, Axie's creator Sky Mavis has started to lean away from the play-to-earn focus. Whether another blockchain game will surpass it as the flag-bearer of play-to-earn gaming remains to be seen.
Splinterlands
Unlike many of the upstart P2E games of the past year, Splinterlands actually launched back in 2018 as "Steem Monsters". Since then, it has grown to become one of the biggest names in the space
To sum up, Splinterlands is a blockchain card game centering around NFT monsters. In the game, players can buy, sell, trade, rent and battle each other with their Splinterlands NFTs. Players can win NFT collectible cards, card packs, and magic potions from their gameplay.
In addition, they can earn Dark Energy Crystals – Splinterlands' in-game currency. Players can spend Dark Energy Crystals in the Splinterlands shop. Not only that, but they can also exchange their Dark Energy Crystals on several DEXs.
Splinterlands started off this year by crossing the 1 billion battles benchmark. Along with some major updates to its decentralization and rewards mechanics, Splinterlands is clearly building to be a factor in the years to come.
Gods Unchained
In the category of NFT trading card games, Gods Unchained may well be at the top of the mountain. The tactical card game, which lives on Immutable X, is free-to-play for starting players. Of course, as players progress and win games, they can attain new card packs. As with other P2E games, high-value packs can be traded on the secondary marketplace.
$GODS is the game's official token, which players can use to buy packs. Furthermore, players can also stake the governance token to reap even more rewards.
Pegaxy
Pegaxy is a highly popular NFT horse racing game with play-to-earn mechanics. It sees players go against each other in 12-person PVP races. As noted in the Pegaxy whitepaper, "Using strategic upgrades, food, and skill, players must place in the top 3 to earn the platform's utility token VIS (Vigorus)".
Aside from top-3 finishes, players can earn VIS by renting their Pega NFTs, competing in Pegaxy's global competition The Grand Dash, and by trading high-performing on the secondary marketplace.
The game launched just over six months ago. Still, the Polygon-based Pegaxy has overtaken Zed Run as the go-to horse-racing NFT game. And with some recent announcements about gameplay updates, it could still grow over the coming months.
The future of play-to-earn NFT games
All things considered, the future of play-to-earn games is promising, if somewhat uncertain. For one thing, the value proposition of P2E comes sharply into question during times like this. When the overall crypto market is down, P2E game tokens tend to follow.
Even the phrase "play-to-earn" has at times come under fire from traditional gamers. After all, players have long played games for the pure enjoyment they get. As a result, some dislike the idea of casual gaming being painted as a way to earn currency.
The previously mentioned Axie Infinity creator Sky Mavis has actually adopted the term "play-and-earn- to address this. This despite the fact that it had previously celebrated how some players in countries like the Philippines had at one time been able to make reasonable income by playing.
Regardless of the backlash, play-to-earn/play-and-earn figures to be an important part of blockchain gaming moving forward. After all, major gaming names like Ubisoft, GameStop and many others are all experimenting with P2E. In conclusion, it seems safe to say that play-to-earn games have a great future ahead of them. I mean, everyone wants to get paid to play video games, right?
---
All investment/financial opinions expressed by NFTevening.com are not recommendations.
This article is educational material.
As always, make your own research prior to making any kind of investment.