The Moonbirds NFT collection has had a volatile weekend, and their floor continued its steady downtrend and hit a low right around 4eth on Saturday. So what happened with Moonbirds that caused this price action?
What Happened with the Moonbirds Floor?
Proof, the parent collection of Moonbirds, tweeted that their ecosystem holds a portion of their treasury at the now-defunct Silicon Valley Bank. They claimed to have diversified their funds across different places, however, did not disclose exact amounts at first. The Proof Twitter account stated, "Proof holds cash at SVB, however… We've thankfully diversified our assets across ETH, stablecoins, as well as fiat—so financially and operationally, we're going to be OK."
The community reaction was immediate and severe. Many prominent holders asked for more clarification on just how much of the project's treasury had potentially been lost. Given the amount of money the project had raised from the Moonbirds mint, royalties, and VC funding, there was a real fear that the losses could be catastrophic.
Kevin Rose, CEO of Proof, even tweeted that he was seeing Moonbird buyers get bullied on the Twitter timeline. While possibly true, the idea that people were getting shamed for buying into the project didn't exactly lend itself to any positive attention in a market that primarily functions as an attention economy.
How did Blur Farming Contribute to the Panic? 
To make matters worse, the news came at unfortunate timing for Moonbirds thanks to unusual market activity caused by Blur farming. One whale had been mass-bidding on Moonbirds last week to farm the upcoming Blur airdrop. This person artificially inflated the price of the collection over 6 eth by accumulating 499 Moonbirds.
After the SVB announcement, the trader began dumping their entire collection to bids as low as 3.94 weth on Saturday. By the end of the weekend, the Blur farmer had sold their last Moonbird and suffered about 700 eth in trading losses in the process.
Why did the Moonbirds Floor Price Rebound?
Kevin Rose, the CEO of Proof, disclosed on Sunday that less than 50% of their treasury is held in SVB. This announcement came after the Department of Treasury, FDIC, and the Federal Reserve released a joint statement promising to protect depositors' assets. By guaranteeing these funds, the government ensured that the Moonbirds team will be able to execute their roadmap.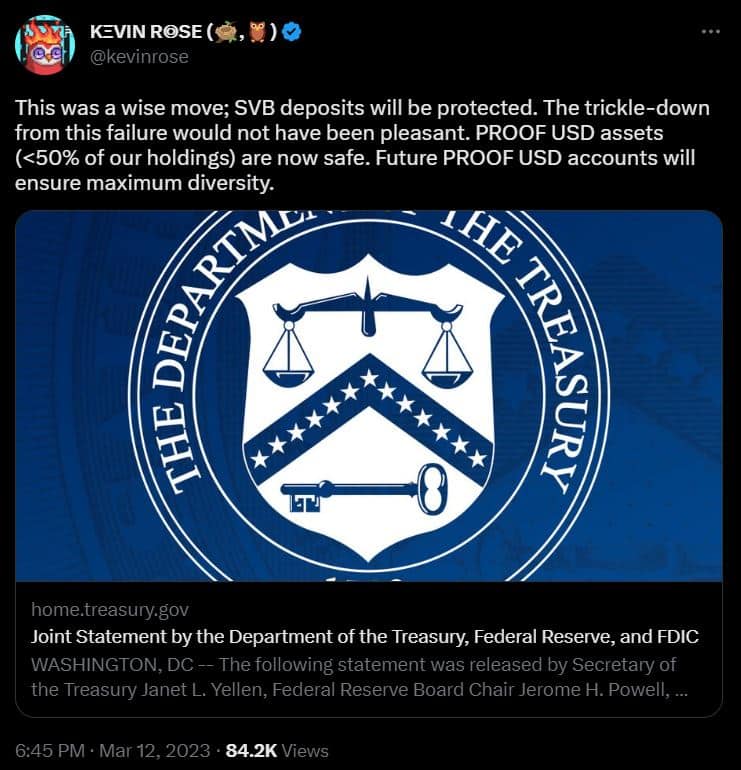 The community rallied behind the project and took advantage of discounted floor price following the news. The floor price currently sits at 4.80 eth, up about 20% off the lows on Saturday.
What is the Future for Moonbirds?
Project leaders Kevin Rose and Justin Mezzell held a Q1 update recently. They promised to focus on art at their "north star" moving forward. To that end, they scrapped their metaverse art gallery project Highrise and announced the cancellation of nesting rewards, a longtime project hallmark that rewards holders for not listing their Moonbirds for sale, after their next reward.
So, will the Proof team be able to return the Moonbirds collection to its previous position as a top-3 NFT collection?  We will soon find out, but now that their funds held in Silicon Valley Bank are protected, they will at least have the funding to take a shot at it.
---
All investment/financial opinions expressed by NFTevening.com are not recommendations.
This article is educational material.
As always, make your own research prior to making any kind of investment.