Animoca Brands is a powerhouse in the web3 space. With an impressive portfolio of tokens, web3-based games, and products, they are taking the space by storm. They also have a whopping 380 investments in web3!
But what actually is Animoca Brands? In this guide, we'll explore everything you might want to know about the brand and how you can get involved.
What is Animoca Brands?
Animoca Brands is a company that specializes in digital entertainment, blockchain, and gamification. Markedly, they are focused on advancing digital property rights and contributing to the open metaverse. Their impressive portfolio includes a variety of products, such as the REVV and SAND tokens, and games like The Sandbox, Crazy Kings, and Crazy Defense Heroes. They have several subsidiaries, including Quidd, GAMEE, and nWay, and over 380 investments in Web3, such as Colossal, Axie Infinity, and OpenSea. Significantly, The Financial Times has recognized Animoca Brands as a High Growth Company in the Asia-Pacific region for 2023, and they have also won the Deloitte Tech Fast award.
Who owns Animoca Brands?
Yat Siu is the founder and current chairman of Animoca Brands Corporation Ltd, a Hong Kong-based game software company and venture capital firm that he founded in 2014.
Throughout his successful career, Yat Siu has received numerous awards and recognitions for his contributions to business and society. Significantly, The World Economic Forum, among others, named him a "Global Leader of Tomorrow" and a "Young Global Leader." Yat Siu is truly a master of entrepreneurship!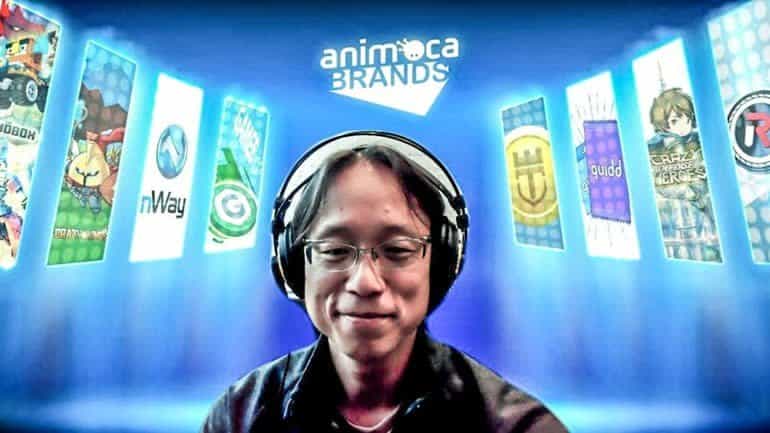 Who is Yat Siu?
Yat Siu has certainly had a fascinating career path. He is a renowned entrepreneur and angel investor. Born and raised in Vienna, Austria, Yat Siu made his mark in Asia when he set up Hong Kong Cybercity in 1996. Notably, this was the first free web page and email provider in Asia. Previously, he started out at Atari in Germany, then moved on to graphic software company Lexicor where he became director and head of the U.S. East Coast division. He set up Outblaze in the late '90s, and eventually, IBM acquired it in 2009 and incorporated it into IBM's LotusLive suite of services.
In 2011, he founded Animoca, one of the world's largest apps for developers and publishers. They created hit apps like Pretty Pet Salon and Cinderella Cafe, which were among Apple's top apps in 2011. Thanks to early funding from venture capital firms Intel Capital and IDG-Accel, Animoca was able to develop and publish hundreds of apps across Android and iOS platforms. This led to Siu founding Animoca Brands in 2014.
Which NFT Brands Has Animoca Brands Invested In?
Animoca Brands has made several notable investments in NFT brands. They have a diverse portfolio of Web3 investments and are constantly expanding their presence in the NFT space. Here, we'll explore just a few examples of the NFT brands in which Animoca Brands has invested in.
First, let's look at OpenSea. The largest NFT marketplace, OpenSea is a peer-to-peer marketplace for buying, selling, and discovering NFTs. Animoca Brands have also invested in Rarible, a community-owned NFT marketplace that allows creators to mint, sell, and auction off their digital assets. The final marketplace we'll dive into is SuperRare, a curated NFT marketplace that features unique, high-quality digital artworks. Animoca Brands have also invested in Async Art, a platform for creating and selling programmable art, where owners can change certain aspects of the artwork over time. Finally, Art Blocks. Art Blocks is a generative art platform where artists create unique algorithmic art pieces.
What are NFT Licenses?
In essence, NFT licenses are a type of license agreement that enables the creator of an NFT to control the distribution, use, and ownership of their digital asset. An NFT license can include various terms and conditions. These often outline restrictions on the use of the NFT, the duration of the license, and the royalty fees that the creator will receive when their NFT is sold or used. It can also specify the rights and responsibilities of both the creator and the licensee.
NFT licenses are important. This is because they provide a legal framework for the use and distribution of NFTs. They ensure that creators protect their intellectual property rights and receive fair compensation for their work. Additionally, NFT licenses can help to create a standardized framework for the NFT market, which can promote trust and transparency among buyers and sellers.
How to Invest in Animoca Brands?
There are several ways you can invest in Animoca Brands, though before doing so it's important to conduct thorough research to evaluate the potential risks and rewards. Please remember that this is not financial advice!
Firstly, Animoca Brands is a publicly traded company. This means you are able to invest through the public market. The Australian Securities Exchange (ASX) lists its stock under the symbol "AB1". You can invest in the company by buying shares on the ASX through a brokerage account.
Secondly, let's look at private markets. Animoca Brands has also raised funding through private placements, which are typically available only to accredited investors. Private placements may involve investing directly in Animoca Brands or through a fund that invests in the company.
And finally, you can invest in Animoca Brands through your cryptocurrency holdings. Animoca Brands has developed and invested in various cryptocurrency tokens such as REVV and SAND. You can buy these tokens on cryptocurrency exchanges.
Animoca Brands Tokens
Animoca Brands has created and invested in various cryptocurrency tokens. They use these tokens in their products and services. Let's take a look at some of the most notable tokens.
Firstly, let's look at REVV. REVV is a utility token that is used in Animoca Brands' racing games, such as F1 Delta Time and MotoGP. Significantly, it is used to purchase in-game assets, participate in game events, and earn rewards.
Secondly, SAND is the native token of The Sandbox, a virtual gaming world where users can create, share, and monetize their own game experiences. SAND is used to purchase and trade virtual land, as well as to participate in the platform's governance and ecosystem.
Animoca Brands acquired GAMEE in 2020. GAMEE is a casual gaming platform that uses the gaming token, GAMEE. Users can use it to purchase in-game items, participate in tournaments, and earn rewards.
Finally, let's take a look at TOWER. Animoca Brands has incubated Tower Token, a decentralized game development platform. TOWER is the governance token for Tower Token. Markedly, TOWER holders can participate in decision-making for the platform and earn rewards for contributing to the ecosystem.
In conclusion, Animoca Brands is a prominent company in the web3 space, specializing in blockchain, digital entertainment, and gamification. They are dedicated to advancing digital property rights and contributing to the open metaverse, with a diversified portfolio of tokens, web3-based games, and products. And with no signs of slowing down, the future looks bright for the brand. We can't wait to see what they'll do next!
---
All investment/financial opinions expressed by NFTevening.com are not recommendations.
This article is educational material.
As always, make your own research prior to making any kind of investment.