BAYC creator Yuga Labs' acquisition of the CryptoPunks and Meebits NFT collections took Twitter by storm. Yuga Labs also announced they will give full commercial rights to the NFT holders. In other words, this means that holders can now incorporate the NFTs into their web3 projects. Unsurprisingly, the move saw fans purchasing the NFTs like crazy. As a result, the values of CryptoPunks and Meebits are now soaring. 
CryptoPunks and Meebits NFT value soars
At the time of writing, CryptoPunks' secondary market sales reached $18.8 million in the last 24 hours, reported Decrypt. Remarkably, this is a 1,219% increase compared to the earlier 24-hour sales. As per DappRadar data, CryptoPunks is currently the third top NFT collection in terms of all-time trading volume, which has crossed 2.67 billion. 
Besides, CryptoPunks' floor price has also seen a significant increase. For the uninitiated, floor price refers to the lowest price at which you can buy an NFT in any given collection. Reportedly, CryptoPunks' floor increased around 11% to surpass 75 ETH. 
Similar to CryptoPunks, Meebits NFT project's value has also increased substantially. In the past 24 hours, its sales rose 529% to hit $18.5 million. In fact, it currently tops the chart for NFT collections with the highest all-time trading volume. At the time of writing, Meebits' trading volume had reached a whopping $7.5 billion. On the other hand, the collection's floor rose 32% to about 5.6 ETH. 
The increase in sales of CryptoPunks and Meebits is likely because Yuga Labs announced to grant IP rights to each NFT holder. Already, BAYC collectors hold the IP rights to their NFTs, allowing them to use their Bored Apes in music videos, merchandise, and more.
In contrast, Larva Labs was heavily criticised for not providing clarity on the NFTs' commercial usage by owners. Even as collectors owned the CryptoPunks and Meebits NFTs, Larva Labs held the IP rights. As a matter of fact, last December, one collector sold his CryptoPunk worth around $10.25 million following an IP dispute.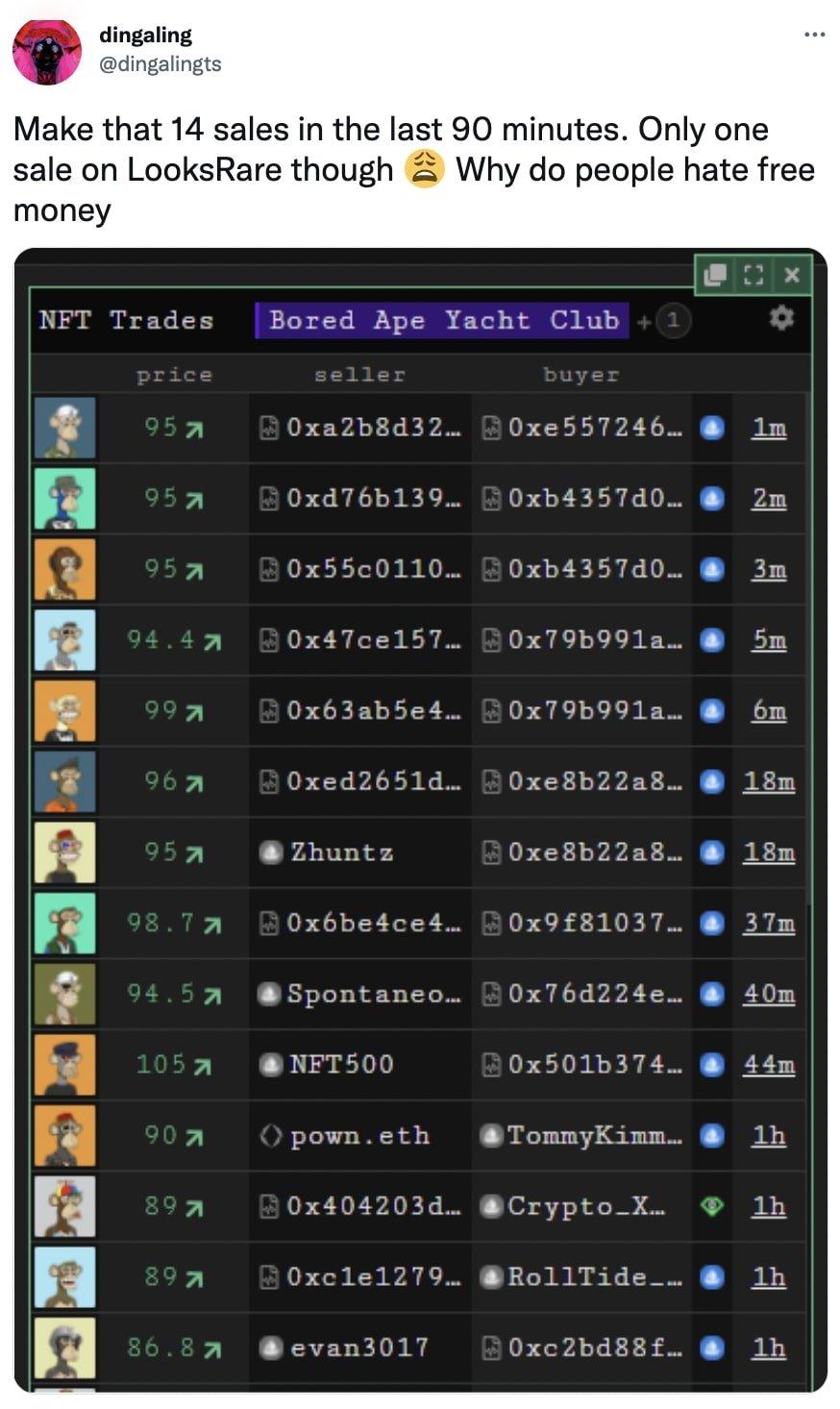 BAYC's value is also on the rise
Amid the discontent around CryptoPunks, BAYC steadily came up as the strongest competitor to CryptoPunks. In fact, the collection flipped CryptoPunks in December 2021. After the acquisition, BAYC's value has also been skyrocketing. According to one Twitter user, BAYC's floor crossed 93 ETH after 14 sales in under 90 minutes! Just days back, BAYC's floor had fallen to 68 ETH.
In the past 24 hours, BAYC raked in $7.3 million in NFT sales, marking a 307% increase from the previous 24 hours. Currently, BAYC takes the fifth spot among collections with the highest all-time trading volume. The value has now reached $1.41 billion, only behind Meebits, Axie Infinity, CryptoPunks, and dotdotdots. In addition, MAYC's sales have increased nearly 80% in the same time period. 
---
All investment/financial opinions expressed by NFTevening.com are not recommendations.
This article is educational material.
As always, make your own research prior to making any kind of investment.