World famous pet brand Pedigree announces a first-of-its-kind metaverse initiative, the FOSTERVERSE program. The program aims to help dogs in need and combat pet homelessness. Specifically, the initiative allows real-life rescue dogs to be virtually fostered in the metaverse! Read on to learn more about Fosterverse from Pedigree.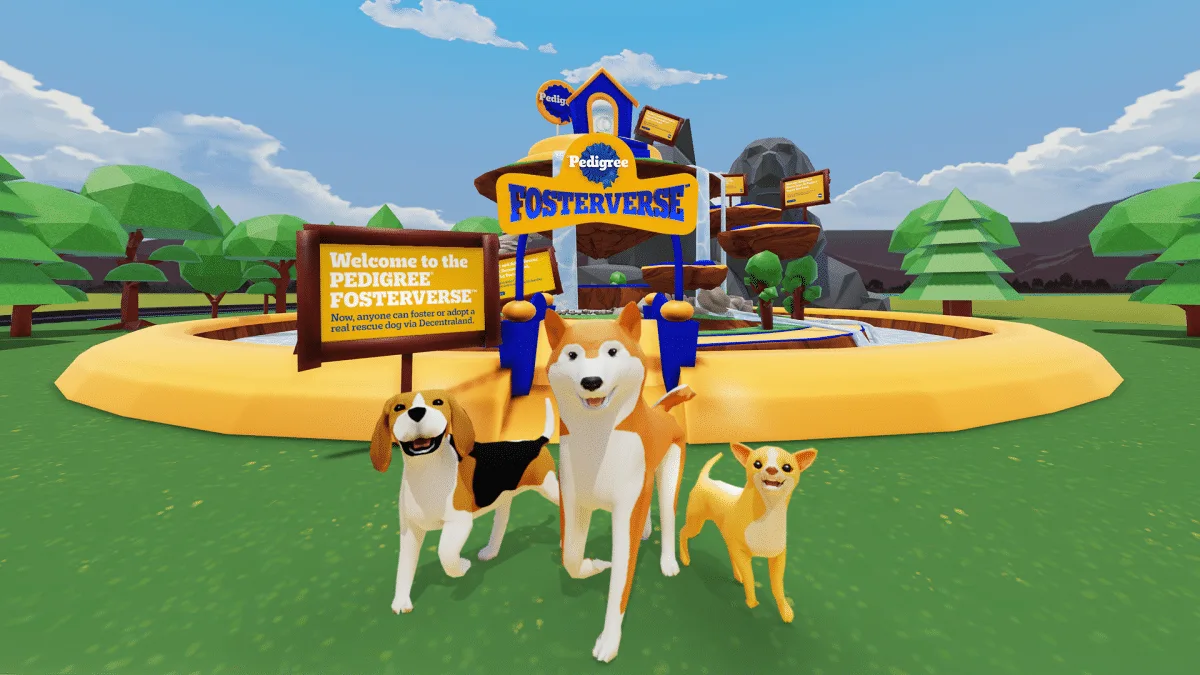 What is Fosterverse – the Metaverse by Pedigree?
The Pedigree Fosterverse tackles the problems of fostering in real life by bringing fostering opportunities to anyone who owns a digital property. The metaverse is a new platform for dog adoption. According to data from Shelter Animals Count suggests that there is a significant increase of animals staying in shelters in the post-pandemic era. Moreover, around 47% of dogs in shelters aren't yet adopted.
Users can access the Fosterverse program to support dogs in new ways. It allows Decentraland property owners to adopt and foster real rescue dogs on their virtual land. Metaverse land owners need to upload 3D avatars based on real-life dogs currently listed on Adopt a Pet™ on their Decentraland property. Then, players can interact with the dogs they meet in the metaverse. This includes learning of the backgrounds, adoption status, and supporting dogs in new ways.
Furthermore, dog lovers can adopt a dog they meet in the metaverse in real life. This is regardless of whether they own digital property or not. The Fosterverse allows adoption through Adopt a Pet. In addition to this, users can also donate to PEDIGREE Foundation to help similar adoptable pets in need.
New Use Cases of NFTs For Dogs in Need
This is a novel frontier for web3 and NFTs, unlocking new ways to interact with digital collectibles for social good. Now, people have new ways to interact and help dogs in need, and the campaign tears down geographical barriers via the Fosterverse. To add to this, Pedigree brand also plans to raise up to $100,000 in donations. These donations help fund foster programming grants for shelters and rescues across the country. Finally, animal lovers participating in the program can earn custom FOSTERVERSE wearables to sport in Decentraland as well!
"As the first brand to bring adoptable dogs to the Metaverse, we are proud to be at the forefront of this new virtual reality, supporting our ambition to end pet homelessness," states Jean-Paul Jansen, VP of Marketing for Mars Petcare North America. "Both the Pedigree brand and Pedigree Foundation have long histories of supporting animal shelters and promoting dog adoption, and this program enables people to support deserving dogs in a new way through virtual fostering."
---
All investment/financial opinions expressed by NFTevening.com are not recommendations.
This article is educational material.
As always, make your own research prior to making any kind of investment.