This week, eBay announced its debut NFT collection featuring no other than Wayne Gretzky! The drop will include 13 3D animated collectibles of Gretzky's most iconic moves. Minting will soon be available via the OneOf NFT marketplace.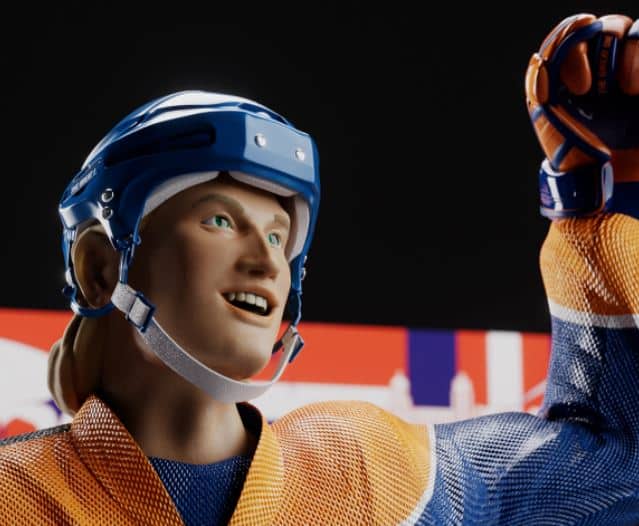 How do the eBay x Wayne Gretzky NFTs look?
The e-commerce giant eBay is officially tapping into NFTs, the company revealed on Monday. Its first NFT drop has 13 3D artworks of the iconic hockey player Wayne Gretzky. In fact, the animated collectibles will show some of Gretzky's most iconic moves on the ice.
The collectibles will come in three tiers: Green, Gold, Platinum, and Diamond. Accordingly, the prices will range between $10 and a whopping $1,500.
Where can you find the new eBay NFTs?
Collectors will be able to mint eBay collectibles via OneOf, a popular web3 marketplace. To clarify, OneOf opened a dedicated store on the eBay e-commerce website. That is to say, the Wayne Gretzky NFTs will be available on eBay.
This is the first collaboration between eBay and OneOf – but certainly not the last. Together, the two companies will launch more sports-themed NFT collections throughout 2022. In fact, the NFT project consists of top athletes from the covers of Sports Illustrated, including Wayne Gretzky.
All in all, both eBay and OneOf are hoping to bring NFTs closer to the e-commerce platform's mainstream audience.
"NFTs and blockchain technology are revolutionizing the collectibles space, and are increasingly viewed as an investment opportunity for enthusiasts," said eBay's VP of collectibles, electronics, and home Dawn Block. "Through our partnership with OneOf, eBay is now making coveted NFTs more accessible to a new generation of collectors everywhere."
How does Wayne Gretzky feel about the NFT drop?
Wayne Gretzky is undoubtedly delighted with eBay's debut NFT collection. The unique 3D collectibles brought precious memories back for the former hockey player:
"Forty years ago, I was grateful to be on the cover of Sports Illustrated, it was a monumental moment in my life," Gretzky declared. "I'm honored to bring this collectible experience to my hockey fans who have followed my career for decades."
Of course, Wayne Gretzky is no stranger to NFTs. The hockey legend dropped his own digital assets in August 2021 via Tom Brady's platform, Autograph. At the time, Gretzky said that his main goal as a content creator is "to appeal to both new and longtime collectors".
What is OneOf?
In essence, OneOf is a Web3 platform that aims to facilitate NFT trading. The marketplace takes pride in its eco-friendly blockchain technology. This perk convinced many big names in the sports industry to join the platform.
For example, Doja Cat sold her single edition NFTs via OneOf back in September 2021. Earlier this spring,  the Notorious BIG estate also dropped a themed NFT collection.
One of the platform's most important collaborations to date is with the Grammy Awards. The two parties joined forces to launch Grammy Award NFTs via the Tezos blockchain.
To conclude, OneOf's partnership with eBay is obviously among its biggest. Their Wayne Gretzky NFTs will drop soon via OneOf's dedicated store on eBay – and that's just the beginning! The duo will likely make more headlines with their future athlete-themed collectibles in 2022.
---
All investment/financial opinions expressed by NFTevening.com are not recommendations.
This article is educational material.
As always, make your own research prior to making any kind of investment.