In 2022, free NFT giveaways are the new meta. From new NFT projects to whales and influencers, everybody wants to reward their community with exciting prizes. If you're wondering how to find the best Twitter or Discord NFT giveaways, our in-depth post explains the basics. Whether you're looking for an easy flip or your forever NFT, giveaways can offer a fantastic way to get into an expensive project. If you're priced out of Bored Apes and Doodles, you are not alone.
Fortunately, from fan art to riddles, communities often reward the clever and talented. For those without the blessing of talent, some shameless promotion, or 'shilling' can help. These, and many more methods can get you that NFT you always wanted.
Stick until the end to find out how you can join these competitions for free blue chip NFTs. Plus, we will tell you who hosts legitimate contests, how to spot scams, and more!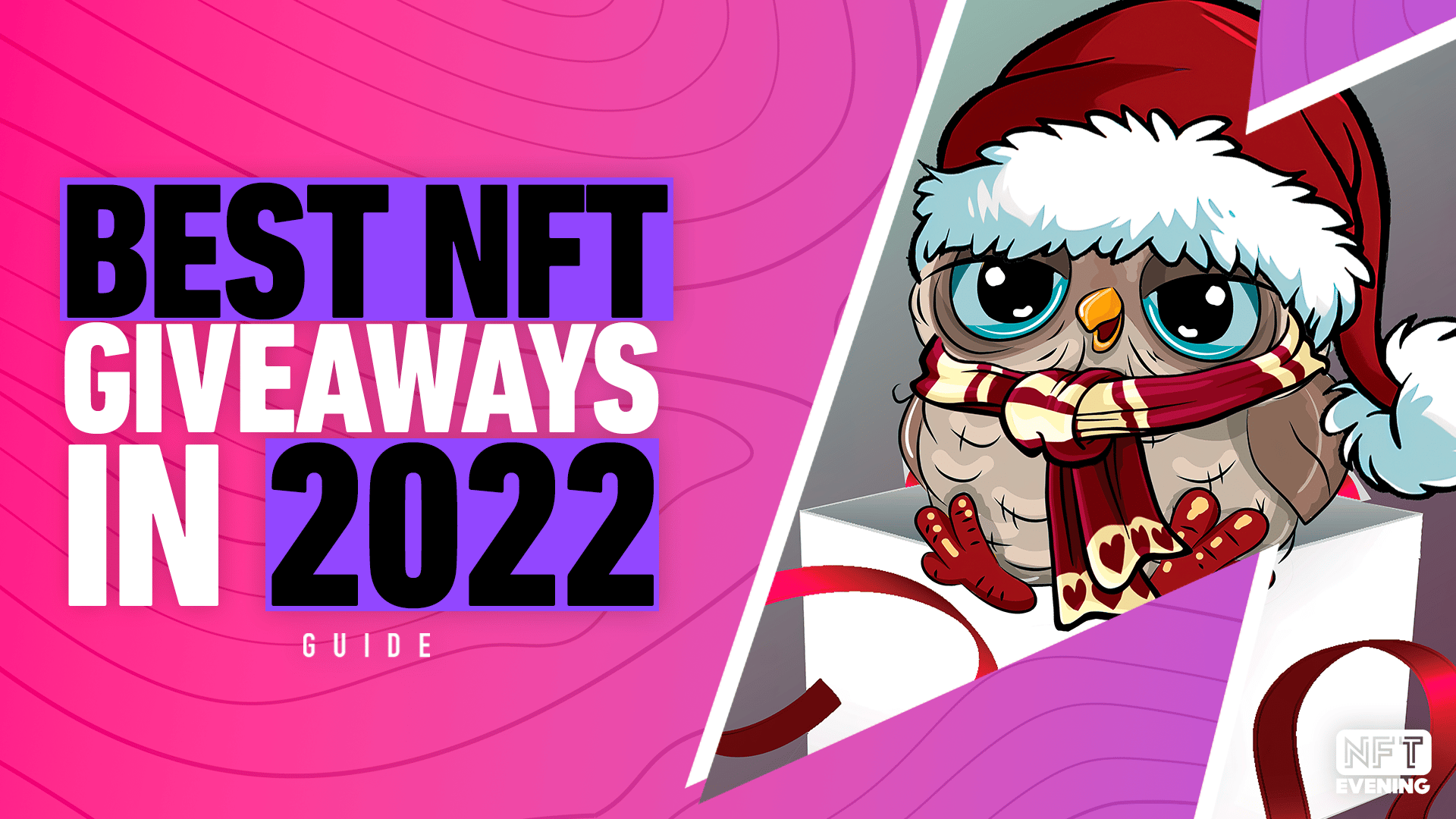 How do I get free NFT giveaways?
In this case, it depends on the project. Some giveaways are available for NFT holders only, while others are meant to attract new community members. Either way, they both share the same goal: exposure.
Now, there are two types of giveaways you can join:
Like and retweet competitions
These free NFT giveaways have simple rules. Usually, a project's team is asking participants to like and retweet a certain post. Sometimes, tagging other people in the comment section or following other accounts is required too.
Some organizers offer NFTs, cryptocurrencies, and even cash prizes to multiple winners.
Twitter NFT influencers, projects, and even marketplaces hold such giveaways constantly. One way to find them is to simply search "NFT giveaway" on Twitter.
Fan art competitions
If you're a talented artist, then why not use your skills to get NFTs for free?
These days, many NFT projects and influencers are hosting fan art competitions. Basically, participants must create artworks in order to win NFTs and other exciting prizes. Most of the time, the artwork entries must be inspired by the organizers' own NFT project.
For example, Deadfellaz's famous "Draw the Undead" derivative art contest involved creating artworks based on the NFTs each holder owns. Nevertheless, the team also allowed non-holders to join using two of the collectibles as their source of inspiration.
Of course, these competitions take time and dedication. However, they're a great way of getting exposure as an artist. Just imagine sharing your artworks with a brand new Discord audience with similar interests!
But how can you find the best free NFT giveaways out there? Let's find out!
Who is giving away  free NFTs?
From Discord to Twitter and even Reddit, you can find NFT giveaways everywhere these days. But who is actually hosting these competitions – and how can you find them?
In short, there are two categories of creators:
NFT Project Giveaways
Giveaways are a powerful way of expanding one's audience, and NFT projects know it. Most of the new projects are hosting Discord or Twitter NFT giveaways to attract new followers. Some offer their debut NFT collectibles as prizes, while others share cash, cryptocurrencies, or other assets.
Don't overlook bigger projects, though. Admins who care about their community are always seeking new ways to reward followers or expand their audience. A recent example is the iconic P2E game Along With The Gods, which is giving away $40K worth of NFTs with NFT Evening!
NFT Influencer Giveaways
Most NFT influencers care about their community just as much as projects do. In fact, their free NFT giveaways might be surprisingly creative!
For example, the NFT personality Gary Vee offered a free VeeFriends NFT for every dozen copies of his book sold within the first 24 hours. This clever NFT giveaway had turned his book "Twelve and a Half" into a best-seller, while the buyers received free collectibles.
However, you must double-check the influencer's account before joining a giveaway. Remember: anybody can get many followers these days.
But how can you tell the difference between a legit NFT giveaway and a scam? Here's what you should know.
Are free NFT giveaways legit?
The short answer is "it depends". Unlike other markets, the NFT sector is still new to many – and scammers know it. Unfortunately, hackers have been compromising thousands of digital wallets or accounts.
For instance, one of their tricks is to host free NFT giveaways that require you to connect your wallet to a certain platform. This should be a red flag, as legit influencers or projects don't ask for any personal data or digital wallet connection for a giveaway.
Secondly, you should look out for the prize of the giveaway. In short, if it sounds too good to be true, it probably is. Of course, some projects and NFT influencers can be generous – but few would offer high cash prizes or entire NFT collections.
How can you join NFT giveaways safely?
One of the best methods to stay safe is to join free giveaways hosted by official Discord channels or verified Twitter accounts. The more you study a project's community, the more you can tell about its real intentions.
Beware, though, as even the most trustworthy Twitter accounts can get hacked too. It happened even to the iconic NFT influencer Zeneca, whose Twitter got compromised earlier this summer.
As look as you keep these simple rules in mind, you should be able to join NFT giveaways safely. But what if you want to host your own competition?
How to host an NFT giveaway
Have you just launched your own NFT project? Hosting luck-based free NFT giveaways is one of the most powerful marketing tools for any creator. To begin with, this method is free for both the organizer (you) and the participants (your audience).
All you have to do is create a tweet that briefly explains your giveaway rules, the prize, and the deadline. Make sure to use relevant hashtags for increased exposure, such as #NFTGiveaway!
If you want to promote your new NFT collection, you can offer some of the collectibles as prizes. You can even share a photo of your NFT in the giveaway's tweet. This way, you'll gain more exposure as participants retweet your post.
Do you already have a community? Then you can start hosting giveaways on your Discord server too. These competitions may be for your NFT holders only, or open to everybody.
Closing thoughts on bagging Free NFTs
To conclude, NFT giveaways are a great way to expand one's audience while rewarding the existing community. You can join free Twitter giveaways that require liking and retweeting posts, or test your talent via art competitions.
Both NFT projects and influencers host giveaways constantly – but make sure to check their accounts twice before joining! Of course, you can start hosting your own giveaways as an NFT creator via Discord or Twitter.
This simple, yet clever technique, can generate traffic and excitement around any project, and we can all take advantage of it.
---
All investment/financial opinions expressed by NFTevening.com are not recommendations.
This article is educational material.
As always, make your own research prior to making any kind of investment.