9 Lives Arena is an upcoming competitive MMORPG (massively multiplayer online role-playing game) built on the Enjin blockchain. The fantasy PvP combat game for PC and consoles was developed by an independent studio, TouchHour. However it still utilises play-to-earn mechanisms, like many NFT games on the Enjin network.
In 9 Lives Arena, characters don't have fixed classes. This means you are free to create your character the way you like including; crafting weapons and armour and choosing spells and abilities. Furthermore, you're able to choose the character from a bloodline that suits you best. The 'warrior bloodlines' include: Viking, Barbarian, Samurai, Gladiator, or Ancient Atlantean.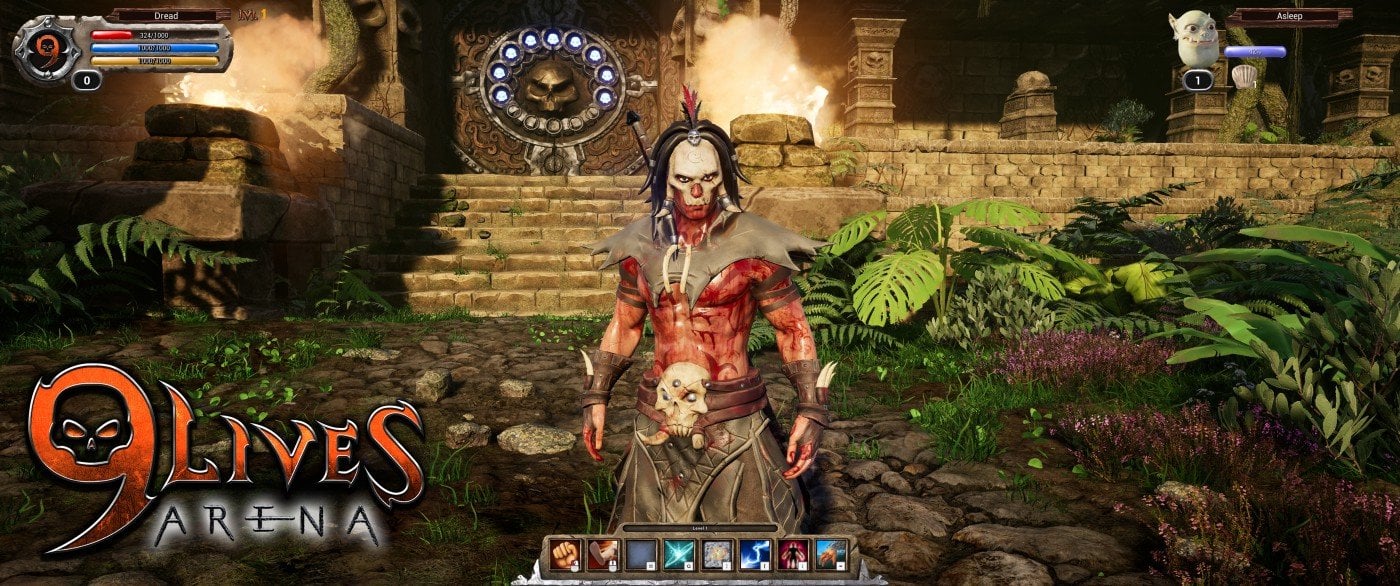 9 Lives Arena: An NFT game introducing permanent death
In 9 Lives Arena, the stakes are high! In this game, "you not only die — you die permanently," it notes in a blog post. "That's as good as it gets for competitive gamers out there that love the risk vs. reward!"
Permadeath, or permanent death, is one of the unique features the game offers. Once you enter level 30, you will only have nine lives. Every time you lose a battle, you lose a life. Once you lose all nine lives, you are not going to respawn and battle again; you will die permanently. Your character will then be immortalized as a statue and you will have to start again by building a new warrior. The permadeath feature thus makes the game all the more competitive and exciting! 
Additionally, last year, the game introduced "Spirits". Spirits can be resurrected to give rise to Immortals, who can compete on leaderboards separate from the mortals.
Play-to-Earn Elements: NFT Blueprints, Bugs, and Ooogies
The game offers rare, limited edition "blueprints", which are ERC-1155 tokens. You can purchase these from the game's store. However, these tokens are optional and do not offer any competitive advantages within the game. You can, nonetheless, sell or trade the NFT game items outside the games and earn crypto too. 
Recently, the game introduced collectibles called 'Bugs', which were dropped to players' wallets for free. There is a total of 150 gold bugs and 250 silver bugs. You can collect these Bugs for rewards or sell them in marketplaces. That's a great play-to-earn feature that actually lets you earn free crypto!
Another unique item…or friend in 9 Lives Arena is an "Ooogy". Ooogies, according to the developers, are the world's first cross-platform AI companion. What exactly do these companions do? They work for your warrior and help in mining, gathering resources such as iron, gold, and leather, and crafting items. Moreover, they will be working even when you are offline.  
Furthermore, the 9 Lives Arena developers will be introducing a "My Ooogy" mobile app, through which you can always connect with your companion. Powered by Enjin, these companions can also be levelled up and traded or sold on marketplaces like OpenSea. Just make sure to keep feeding them fish.  
The game's development began in December 2016 and is currently in the Closed Alpha phase. It is expected to move into Open Alpha later this year.  
9 Lives Arena is only one among the many games powered by Enjin. Some of the other titles you can check out on this blockchain are The Six Dragons, Dungeon Universe, and Age of Rust.
---
All investment/financial opinions expressed by NFTevening.com are not recommendations.
This article is educational material.
As always, make your own research prior to making any kind of investment.