After much anticipation and a secretive launch, the Bored Ape Yacht Club (BAYC) dropped the Mutant Ape Yacht Club (MAYC) NFTs on August 28, 2021. Cut to today and the MAYC NFT collection has achieved some impressive feats, not to mention some jaw-dropping sales figures. 
But, what is the Mutant Ape Yacht Club? And what are Mutant Apes?
What is the Mutant Ape Yacht Club (MAYC)?
The Mutant Ape Yacht Club (MAYC) is an NFT collection of a maximum of 20,000 Mutant Apes. They were the third NFT collection that BAYC creators Yuga Labs launched, after the Bored Ape Yacht Club and its companion collection, the Bored Ape Kennel Club. Although they are the 3rd collection, Mutants were actually on BAYC's initial Roadmap 1.0. In fact, when it comes to importance, they act as the second tier to Bored Ape Yacht Club Membership
As the BAYC team noted, "The MAYC is a way to reward our ape holders with an entirely new NFT—a "mutant" version of their ape—while also allowing newcomers into the BAYC ecosystem at a lower tier of membership".
When Did The Mutant Ape Yacht Club NFT Collection Drop?
To explain, there were two ways to attain a Mutant Ape NFT. Firstly, Yuga Labs made Mutant Apes available to BAYC holders via its Mutant Serums. Secondly,  there were 10,000 MAYC NFTs available in a public Dutch auction on Aug. 28, 2021. 
The run-up to the drop was shrouded in mystery. Although the community knew something big was coming, nobody knew exactly what. Then, early on Friday, August 27, 2021, BAYC tweeted, "MAYC Tomorrow 8/28/21". In addition, it also announced the time for a snapshot and Mutant Serums airdrop. BAYC did not reveal much about MAYC or Mutant Serums, leaving the community clueless, but very excited.
Before holding the public sale, BAYC developers were adamant about one thing: the sale should have a fair distribution. As high-profile NFT drops often end up with investors paying exorbitant gas fees, BAYC decided to go with a Dutch auction.
How Many MAYC NFTs are there?
During the public auction, 10,000 mutant ape NFTs were made available for mint. The mint format was a Dutch auction, meaning that the price to mint Mutants started at 3 ETH, gradually reducing until sellout, or to a minimum price of 0.01 ETH. 
Furthermore, to ensure a fair distribution, they made the public sale a "stealth drop". They kept the details of the sale under wraps, ensuring that the larger crypto community, including bots, didn't come armed during the sale. Despite the late announcement, the MAYC collection sold out in less than an hour, amassing around $90 million in primary sales.
What are BAYC Mutant serum NFTs?
Basically, the BAYC team took snapshots of all Bored Ape Yacht Club NFTs prior to launch. Then, they airdropped 10,000 Mutant Serum NFTs to Bored Ape holders. Holders could then create mutants by exposing their Bored Apes to the serum by just paying the gas fees. G
iven that serums are burned upon use, the remaining serums have become increasingly valuable on the secondary market. To illustrate, the remaining 969 M1 serums have a floor price of 32.4 ETH on OpenSea. By the same token, that number for the 568 M2s is 49.75 ETH.
M1, M2 and M3 Mutant Serums: What's the difference?
Significantly, these serums came in three tiers: M1, M2, and M3 (Mega Mutant). There were 7,500 M1s, 2,492 M2s, and 8 M3s. Mutants created using M1 or M2 serums retained the traits of the original ape, with fitting modifications.
However, the Mega Mutant Ape Yacht Club NFTs created from serums are more visually distinct, with each being a 1-of-1 with unique traits. It's also important to note that Yuga Labs included 5 Mega Mutant Ape NFTs in the public mint, bringing the total possible number of Mega Mutant NFTs in the Yacht Club to 13.
Furthermore, a Bored Ape can "ingest" a particular type of serum only once. This means just one Bored Ape Yacht Club NFT can give rise to three different mutants after ingesting M1, M2, or M3 vials. While a serum gets burnt after use, the original Bored Ape NFT is unaffected when a holder uses one to create a mutant. That means BAYC holders lucked out, in some cases doubling their initial investment with the Mutant Ape Yacht Club airdrop.
The ultra-rare Mega Mutant serum NFTs are an entirely different story.
Mega Mutant Serums: These Ultra Rare NFTs Explained
Mega Mutant serum NFTs were incredibly rare, to begin with, but become even rarer as serums are taken. Today, only two Mega Mutant Serums remain. As a result, M3 Serum sales and mutations have been incredibly high-profile events in the NFT space.
Take Ethereum Foundation co-founder Taylor Gerring for instance. He sent Crypto Twitter wild late last year after he bought a Mega Mutant Serum NFT for a staggering 888 ETH (around $3.6 million at the time). And things didn't just end there. Gerring went on to inject his Bored Ape with the serum live on Twitch! 2,500 POAPs were also distributed as part of the live event.
Gerring's jaw-dropping mutant purchase was only the first of many such sales to follow. Just days later, another Mega Mutant Serum sold to Deepak Thapliyal for an unbelievable 1542 ETH. It even created history as the highest OpenSea sale from the BAYC ecosystem.
How expensive are Mutant Ape Yacht Club NFTs?
As of March 23, 2022, the collection has amassed a secondary sales volume of 286.9K ETH (currently over $850 million) on OpenSea. In addition, it has a current floor price of 21.85 ETH. Unsurprisingly, those numbers have it ranked as the number eight NFT collection by all-time volume on DappRadar's ranking.
Like the BAYC collection, the Mutant Ape Yacht Club NFT Collection has also seen a large number of huge individual sales. Indeed, soon after minting went live, Mutant Ape #9209 – the Mega Swamp Mutant Ape – sold for a whopping 222 ETH. And it's only the fourth-highest MAYC sale!
To clarify, it falls behind Mutant Ape Yacht Club NFT #6957 "Mega Jelly" (250 ETH) and #1796 "Mega Radioactive" (335 ETH). Then there's Mutant Ape #4849, the "Mega Demon",  which currently holds the record for the highest-sold NFT in the collection at 350 ETH. Several other NFTs in the collection have sold for ETH amounts that equate to more than $500,000.
Why are MAYC NFTs so expensive?
Several celebrities have aped into the MAYC NFT collection as well. American Rapper, Lil Baby, for instance, holds MAYC #129. He has even proudly displayed it as his Twitter PFP for his 6.2 million followers! Known NFT enthusiast Snoop Dogg holds a full set of BAYC #7723 and MAYC (M1 and M2). Linkin Park frontman Mike Shinoda, retired NBA star Shaquille O'Neal, and DJ Steve Aoki are some of the other celebrities who hold Mutant Ape Yacht Club NFTs.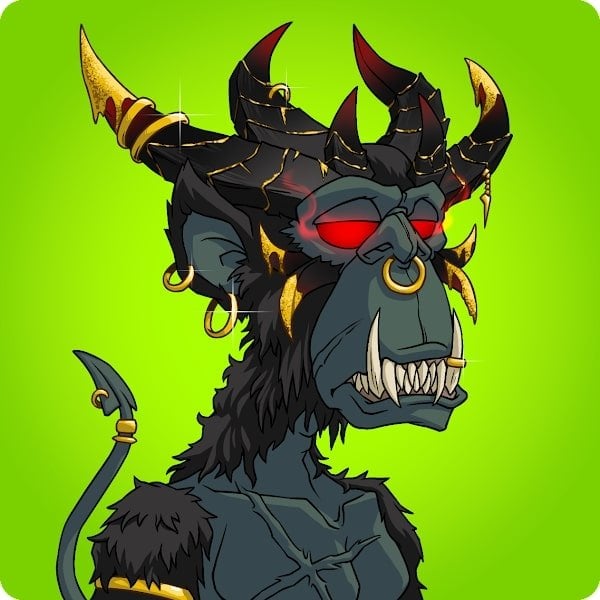 Needless to say, the incredible attention to detail in each Mutant Ape artwork has made these NFTs quite appealing to fans and collectors. From accessories to various other traits, the artworks are top-notch.
Theories behind Mutant Ape Yacht Club NFT Traits
Over the last couple of months, fans have spoken about several features of the apes. For instance, as one Twitter user pointed out, some M1 hats have 'MAYC' written on them, while others have say 'BAYC'. Could this have a hidden meaning? Well, only Yuga Labs would know!
Mutants Could Claim ApeCoin
Without a doubt, the most recent win for Mutant Ape Yacht Club members was their inclusion in the APEcoin launch on March 17th. Like just about everything Ape-related, the long-awaited token launch dominated NFT news from its announcement. Notably, the token was only available for BAYC and MAYC holders to claim at launch. Even so, APEcoin was also available to trade on major exchanges from the first day.
Mutant Ape NFT holders got to claim 2,042 tokens per Mutant, or 2,898 tokens per Mutant and Bored Ape Kennel Club NFT pair. At the current price of APEcoin, this roughly amounts to values of $20,420 and $28,980. In other words, if a Mutant Ape holder were to cash out their entire claim today (March 23, 2022), they could receive an amount of around one-third to a half of the current Mutant Ape Yacht Club (MAYC) floor price in USD.
Otherside: A New Metaverse for BAYC and MAYC Holders?
There seems to be no end to Yuga Labs's offerings to the BAYC and MAYC holders. After a successful APEcoin launch, Yuga Labs is now gearing up to launch what looks like its own metaverse. On March 19, the company dropped a teaser for its upcoming project called Otherside. In the trailer, one can see an ape wearing flip-flops and a hat, smoking a cigarette. The ape then fishes a potion out of the water and drinks it—a move that sends him to the Otherside.
The place has lava spewing from volcanoes and submarines coming from the water. But here's the interesting bit—inside the submarine, there's a CryptoPunk, a World of Women avatar, a Mutant Ape, and a Cool Cat! This likely indicates that Yuga Labs is building an interoperable metaverse that supports a range of other NFT collections. Yuga Labs also announced that ApeCoin will power Otherside.
Apart from this, Animoca Brands, the parent company of The Sandbox metaverse, has announced it is developing a "secret project" for BAYC. It also said that it is "adopting ApeCoin" for this project. As a result, speculations are now rife that Animoca Brands is actually working on building Otherside. Anyway, as the Otherside will launch in 2022, we'll know more soon!
The Mutant Ape Yacht Club (MAYC) was integral to Yuga Labs' NFT Success
In under a year, the Bored Ape Yacht Club has become the hottest NFT avatar collection to own. The NFT PFP collection consists of 9,999 unique NFTs built on the Ethereum blockchain. As per DappRadar, BAYC is fifth among all-time top NFT collections by sales volume (at the time of writing). It has amassed over $1.41 billion in sales so far. Besides, it currently has a gaudy floor price of 101.69 ETH!
Clearly, Yuga Labs, led by the BAYC and MAYC, continues to grow in leaps and bounds, attracting attention from far and wide. The community fervour, celebrity endorsements from across industries, and constant innovation from Yuga Labs have helped BAYC to consistently remain as one of the top collections in the NFT space. Clearly, The Mutant Ape Yacht Club (MAYC) is certainly in that mix as well.
Considering the recent APEcoin launch, the viral trailer for Otherside, and more massive moves planned for 2022, it's hard to picture the run of success for Yuga Labs, BAYC, and the Mutant Ape Yacht Club ending anytime soon.
Learn More About the Top NFT Projects
---
All investment/financial opinions expressed by NFTevening.com are not recommendations.
This article is educational material.
As always, make your own research prior to making any kind of investment.