The metaverse is on everyone's lips these days. Within the virtual world, owning metaverse land is now the hottest trend! But what is the metaverse? And why would you want to buy metaverse Land? Well, these days, some digital real estate NFTs fetch millions of dollars.
Brands like Adidas and celebrities such as Snoop Dogg have their own virtual land. Someone even paid $450,000 to be Snoop Dogg's metaverse neighbour! Maybe you need metaverse land to create a digital event. Or perhaps you simply want to host a virtual shop or NFT gallery. Whatever your reasons, we'll tell you everything you need to know about metaverse land and digital real estate!
What is the metaverse?
The Metaverse is a digital world created by bringing a combination of virtual reality (VR), video, augmented reality (AR), and mixed reality (MR) to our day to day lives. Essentially, it is a virtual 3D world where you can roam around as your digital self—or an 'avatar'. You can meet friends, attend concerts, play games, shop and sell items, work, and much more—all from the comfort of your home.
Meta's move into the metaverse made the concept mainstream. Now, brands like Nike, Adidas, D&G, and Balenciaga, among others, have also hopped on the bandwagon. 
So, how do you invest in digital real estate? A lucrative option is to buy metaverse land in any of the popular metaverses. 
What is Metaverse Land?
Put simply, digital real estate is the online counterpart of physical real estate. So, just like in the real world, virtual land is a unique, fixed plot of land in the metaverse. In each virtual world, you can find real estate divided into parcels. These parcels are NFTs that you can collect, buy, or sell using the metaverse's native token.
How Much Is Metaverse Land?
Back in March 2021, a virtual house, called 'Mars House', sold for a hefty sum of $514,000 . Created by digital artist, Krista Kim, Mars House is known as the world's "first NFT digital house". Since then, especially due to the metaverse hype, virtual land has made headlines with record-breaking sales.
In June, for example, Decentraland sold a plot of virtual land for $900,000. At the time, it set a record as the most expensive virtual real estate on Decentraland. Later in November, a plot of virtual land on The Sandbox metaverse fetched a whopping $4.3 million—the highest for any virtual land. More recently, BAYC creator Yuga Labs sold 55,000 parcels of virtual land called Otherdeed for over $300 million.
Of course, not all virtual lands are highly valuable. The value depends on its proximity to key districts, popular areas, great views, important roads, and more. 
But, why would someone buy a piece of land that they can't physically access? More importantly, why are they paying thousands of dollars for it?
Why Buy Metaverse Land and Digital Real Estate?
Although digital real estate exists only in the online world, you can do pretty much everything with it as you would with a physical plot. On your plot, you can build virtual houses, shops, museums, and casinos, among others. You can even merge adjacent parcels to create an Estate or a larger District with two or more owners.
Virtual real estate is also a great means to earn an income. For one, you can host concerts or parties and charge an entry fee. Rapper Travis Scott, for example, hosted a virtual concert in Fortnite that was attended by close to 28 million people!
Decentraland even arranged a music festival with Paris Hilton, Deadmau5, and 3LAU, among others. More recently, in April 22, Decentraland was home to the first-ever marathon in the metaverse. Alternately, you can host ticketed games or allow brands to advertise on your plot. 
Furthermore, for a regular income, you can even rent your real estate to others. For instance, you could rent it to developers to build on it for a monthly income. You could also set up an art gallery and rent the space to artists to host their exhibitions.
Ultimately, there is so much you can do on a virtual land—that's exactly why individuals, brands, and celebrities alike are investing in this new space.
Where to Buy your Metaverse land
Now that you know all about virtual worlds and metaverse land, it's time to get your own virtual real estate! But first, you need to choose a metaverse. There are plenty of virtual worlds you can pick from to buy or sell digital real estate. But which metaverse is best? And where can you buy land plots in the metaverse?
Decentraland
Decentraland is hands-down the most popular metaverse available today. This fully decentralized, community-owned metaverse on the Ethereum blockchain offers 90,601 parcels of Land. Each parcel is an NFT and measures 16 meters by 16 meters. Its native token is MANA, using which you can make purchases in the metaverse, including LAND parcels. Moreover, MANA owners get governance rights in Decentraland. 
It's very simple to sign up on Decentraland and its user base is only growing.  You can purchase any available Land from either the Decentraland metaverse or OpenSea. At the time of writing, the cheapest land parcel in Decentraland cost 2.29 ETH or about $4,100. In fact, one virtual real estate plot in Decentraland fetched $2.4 million!
The Sandbox
The Sandbox is another popular virtual world offering metaverse land plots. Here, you can trade a range of digital assets and gaming experiences. Moreover, it offers tools such as VoxEdit and Game Maker to create your own voxel NFTs (called ASSETS) and 3D games. This virtual world offers a total of 166,464 LANDs, with each 1×1 LAND measuring 96 metres by 96 metres. You can buy LAND using The Sandbox's virtual currency, SAND from its marketplace.
On The Sandbox, LANDs are primarily used by game designers to build and publish games. LAND owners not only get governance rights but can also stake SAND to earn passive rewards. As per the data from NonFungible.com, LAND costs about $3,000 on average (at the time of writing).
Voxels
Voxels (previously called Cryptovoxels) is an Ethereum-based metaverse not unlike Minecraft. Buy Voxels metaverse land parcels and you can build nearly anything you want. Within this virtual world, you have an 'Origin City' owned by 'The Corporation' and parcels of virtual land owned by individuals. Here, the land is called the Cryptovoxels Parcel (CVPA), with a total supply of 5,919. You can purchase these metaverse land plots from its in-world marketplace or secondary marketplaces like OpenSea.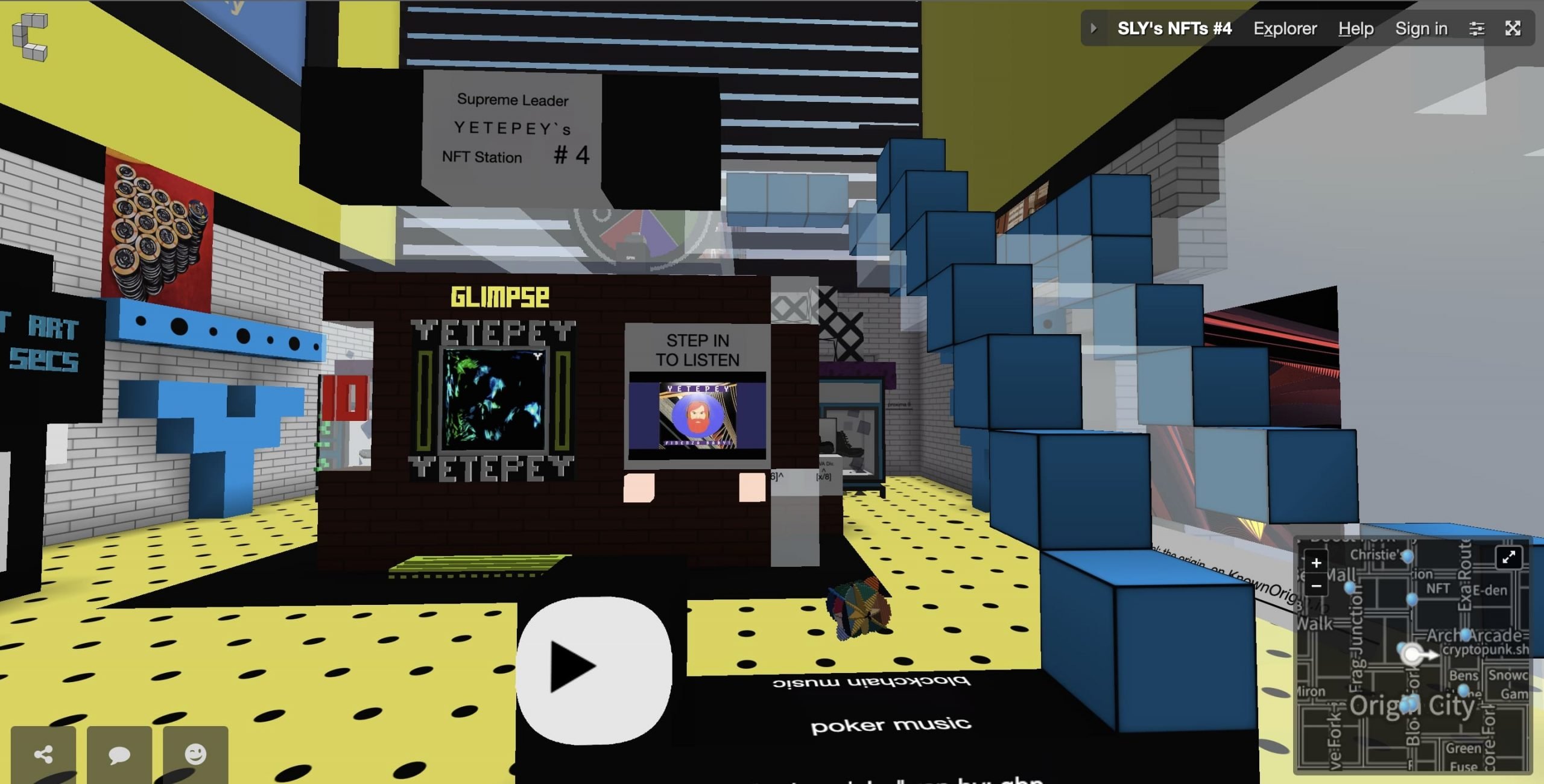 Land in Voxels is comparatively cheaper—costs an average of around $1,000 (at the time of writing). Once you buy Voxels metaverse land, you can create and remove blocks, add features such as gifs, images, audio, video, voxels, and more. However, unlike Decentraland, Cryptovoxels does not have an in-world currency.
NFT Worlds
While relatively new to the NFT space, NFT Worlds has quickly become a popular virtual world. The platform describes itself as a "fully decentralized, fully customizable, community driven, play to earn gaming platform". Here too, players can create their own games, experiences, or exclusive communities within the virtual world. 
The Ethereum-based NFT Worlds offer 10,000 digital worlds. Interestingly, as it is built on Minecraft's open-source ecosystem, each world is fully compatible with Minecraft. Currently, NFT Worlds has a floor price of 3.99 ETH or about $7,200.
Recently, NFT Worlds dropped its second roadmap. The extensive roadmap focuses on improving the metaverse project. In other words, it will soon become easier for people to build crypto-enabled, play-to-earn metaverses. More tool, higher player adoption, more incentives, and more are also in the pipeline.
Somnium Space
Ethereum-based Somnium Space is available in both 2D and VR and offers one of the best VR virtual world experiences. While it had originally started as a centralised platform, the developers are now on the path to making it fully decentralised. Like The Sandbox, this platform too offers several tools like UnitySDK to develop avatars and properties. 
Here, you can use the ERC-20 token, CUBE to buy virtual estates called PARCEL. These are limited in supply with only 5,026 in all. At the time of writing, Somnium Space PARCELs cost an average of $3,000.
How To Buy Land In The Metaverse
Firstly, you need a crypto wallet to safely store your cryptocurrencies and NFTs. MetaMask is the most popular choice and is accepted by almost all metaverses.
Next, you have to get some cryptocurrency from an exchange to purchase the virtual land. Make sure the currency you pick corresponds with your metaverse of choice. Remember, while Decentraland's native token is MANA, for The Sandbox, it's SAND. However, both platforms usually let you list your metaverse land in ETH too.
Once you have the relevant coin you need, go to the marketplace and browse the land on sale. However, make sure to read all about the parcel and understand the location well before buying!
While virtual real estate has the potential to generate high ROI, it's important to understand the risks involved. Their value can greatly fluctuate with those of cryptocurrencies, which are highly volatile. Besides, unlike physical land, virtual real estate will no longer exist if the platform you invested in suddenly fails. Thus, make sure to do your due diligence before diving in.
---
All investment/financial opinions expressed by NFTevening.com are not recommendations.
This article is educational material.
As always, make your own research prior to making any kind of investment.