Gary Vaynerchuk's (Or Gary Vee's)  NFT project, VeeFriends NFT is one of the hottest collections in the market. He wanted to give back to his followers using NFTs as tokens to new experiences. Essentially, he pioneered the NFT fan club model.  Vee Friends marked a turning point for the NFT industry.
But who is Gary Vee and what is the VeeFriends Collection really? And why are VeeFriends so expensive?
In the guide below, we'll take you through the VeeFriends NFT project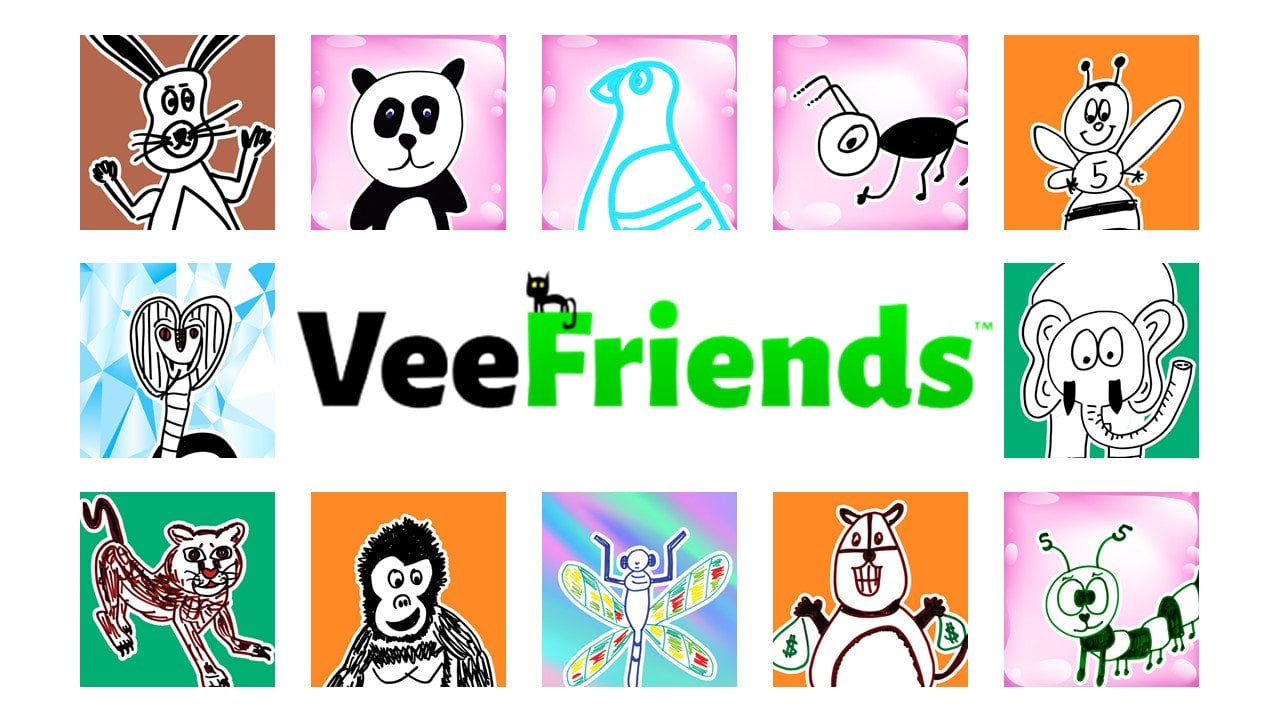 What is the VeeFriends NFT collection?
VeeFriends, a groundbreaking NFT project launched by entrepreneur Gary Vaynerchuk in 2021, has evolved into a dynamic combination of collectibles and social token utility on the Ethereum blockchain. The collection boasts 268 characters in Series 1, each with whimsical, alliterative names like "Adventurous Astronaut" and "Empathetic Elephant," personally sketched by Gary Vee himself. Reflecting Vaynerchuk's admiration for positive human attributes, these characters go beyond mere collectibles to form the foundation of an enduring IP empire.
The name "Friends" is aptly chosen, embodying Gary Vee's belief that business can be enjoyable with friends. Beyond the aesthetic appeal, each VeeFriends NFT carries significant utility, offering access to two key elements. First, there's VeeCon, the highly anticipated NFT event of the year, underlining the project's commitment to the web3 community. Second, lucky holders gain real-life access to Gary Vee himself, with opportunities ranging from playing tennis to sharing a meal. Notably, 108 out of 300 access tokens grant the unique privilege of a one-on-one session with the entrepreneur.
As the project continues to flourish, VeeFriends has expanded into various series, fostering a massive web3 community. Notably, the core utility of holding a Series 1 NFT extends to exclusive access to VeeCon, a multi-day web3 conference held annually. Some NFTs provide additional creative utilities, such as the coveted 1-on-1 meetings with Gary Vee. The project's success is further exemplified by the auction of five hand-drawn VeeFriend NFTs at Christie's for an impressive $1.2 million. Looking to the future, Gary Vaynerchuk has introduced Burn Island in 2023, a deflationary mechanism aimed at managing the growing supply of VeeFriends-associated NFTs while rewarding participants with valuable prizes.
Who is the Owner of VeeFriends?
The creative force behind VeeFriends is none other than the prolific entrepreneur, speaker, and author, Gary Vaynerchuk, affectionately known as "Gary Vee." Born in Belarus, Gary immigrated to the United States in the 1970s, and his journey in the business world is nothing short of remarkable. Initially involved in growing his family's liquor store from $3 million to an impressive $60 million, Gary's entrepreneurial spirit led him to become a serial entrepreneur, investor, and media mogul.
While Gary Vee gained initial fame as a wine critic, he has since expanded his influence as the chairman of the New York-based communications firm, VaynerX, and as the CEO of both VaynerMedia and VaynerSports. Notably, he's recognized for his early investments in major companies like Facebook, Twitter, Tumblr, Uber, Snap, and Venmo. With a net worth exceeding $200 million, Gary's success extends beyond traditional business ventures into the world of NFTs through his company, VaynerNFT.
Around the year 2000, Gary delved into digital marketing and social media, founding VaynerMedia, a marketing agency that has collaborated with some of the world's biggest brands. VaynerX serves as the holding company encompassing Gary's diverse enterprises, including Vayner3, his web3-focused company. Gary Vee's immense influence, amplified by his millions-strong Twitter following, has played a pivotal role in introducing NFTs to mainstream culture through his captivating NFT collection, VeeFriends.
.
VeeFriends Original Mint Price
VeeFriends NFT Collection launched in May 2021. During the launch alone, VeeFriends raised over $20 million. Since then, VeeFriends NFTs did not stop flying off the shelves, amassing 53ETH in total volume in just a year. What was the original mint price of VeeFriends? On launch day (May 2021), VeeFriends led a dutch auction style mint, with bids commencing with starting prices ranging from 2.5 to 7 ETH.
The auction concluded with final prices between 0.5 and 3 ETH. Although approximately 3,000 NFTs found buyers within the initial 24 hours, the project reached full sold-out status after a span of 20 days, culminating on June 1, 2021.
VeeFriends Series 1: Collection Details & Utility
Below are a few important details  VeeFriends NFT project.
How Many Veefriends NFTs are there?
There are 268 unique characters and, in total, 10,255 tokens distributed in three categories. First are the 9,400 Admission tokens, then 300 Access tokens, and lastly, 555 Gift Goat tokens. Furthermore, each character has 40 different Admission tokens, divided into two categories—Core (20) and Limited (20).
All Core NFTs feature the same "Gary Bee" character on them. However, then the rest (limited category) divide into Rare (8), Very rare (5), and Epic (2).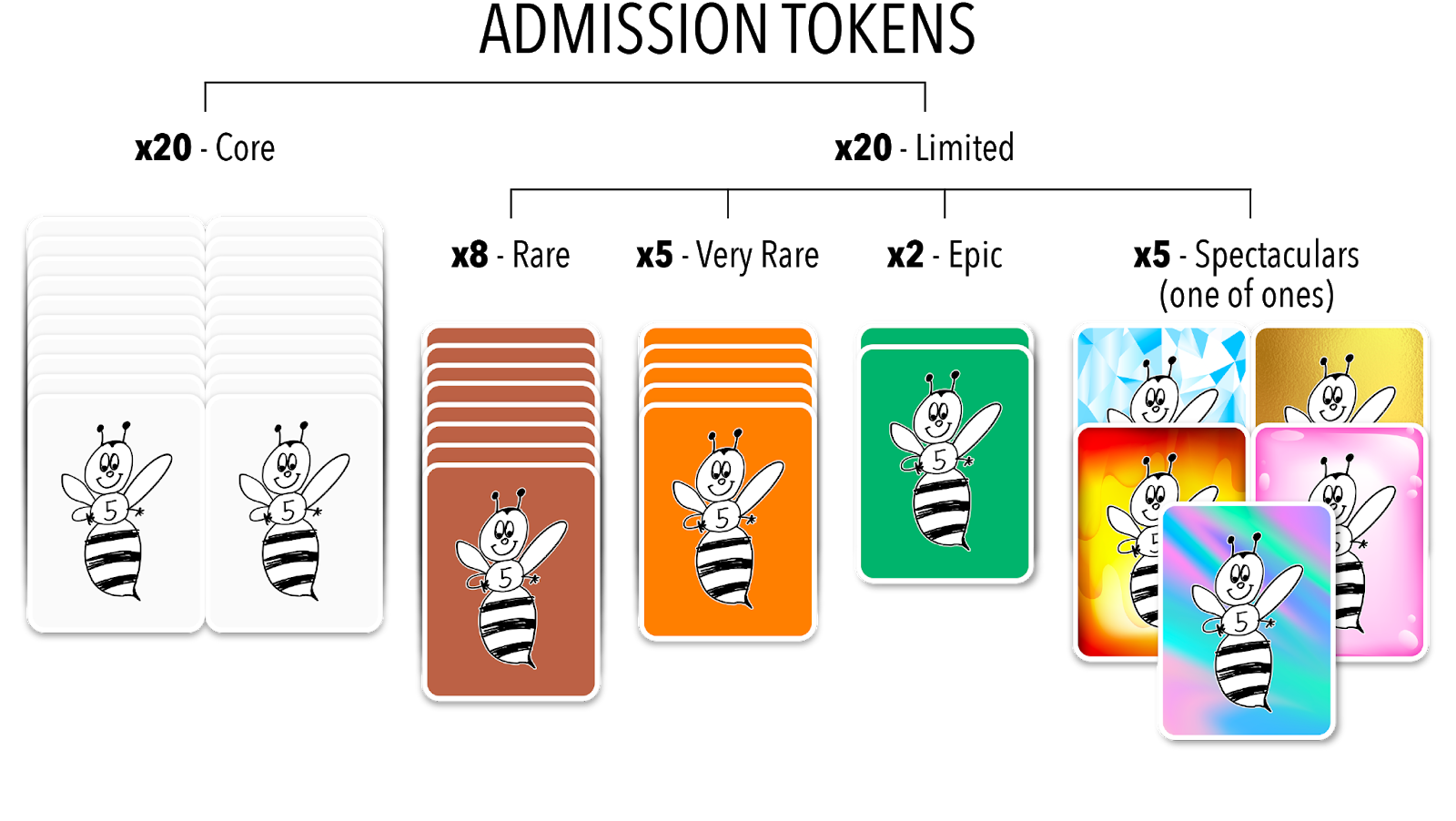 The sixth type of token are the 'Spectaculars', which represent 1 of 1 art tokens. Basically, these are considered the "holy grail" of each character. All in all, there are five Spectacular types—Bubble Gum, Diamond, Hologram, Gold, and Lava.
Irrespective of the category, all token holders receive a three-year access pass to VeeCon.
All About VeeFriends Series 2 NFT Collection
VeeFriends Series 2  launched on April 2022. The collection features a total of 55,555 NFTs, with each token costing $995 in ETH. Essentially, Gary Vee wanted to extend the VeeFriends community.
All in all, VeeFriends Series 2 has 251 characters—236 characters from Series 1 and 15 new characters. Then, each character has a maximum supply of 220 tokens. Of these 220 NFTs,  214 are completely unique 1/1 tokens. Plus, there are just six Character Spectacular 1/1s.
VeeFriends Series 2 minted their 55,555 NFTs in four batches—Friends List mint, Series 1 free claim, public mint, and new character drop.
What is VeeFriends Iconics?
During the Series 2 launch, the VeeFriends team had announced a future surprise. They finally revealed it in August, 2022—VeeFriends Iconics! Basically, Iconics is a collection of 1,175, 1-of-1 NFTs with  VeeFriends Series 1 Spectacular characters. What's more, all the artworks are hand drawn by artist Gilang Bogy and are available in a signature WPAP (Wedha's Pop Art Potrait) style.
That's not all. With drops like the trading card game, VeeFriends have time and again shown their support for physical collectibles alongside their NFTs. This time too, eligible holders can claim a 12×12 Metarelics Canvas of their VeeFriends Iconics characters for free!
Eligible Series 1 Spectacular holders can head over to the website, connect their wallet, and give the necessary information to make the claim. Remember, the team took the snapshots on April 15! You have until 11:59 PM ET on September 17, 2022 to claim the physical pieces.
The inspiration behind Iconics
Firstly, who is Gilang Bogy, the artist behind the Iconics? Bogy is the artist behind the 2018 NFT project, CryptoStrikers, the first sports-based Ethereum project. Launched before the 2018 FIFA World Cup, a total of 100 players are featured in the collection. However, only 32 are available in the most exclusive set called "Iconics".
"These CryptoStrikers "Iconics" are not only celebrated as the preeminent pieces of the collection, but also act as the first NFT appearance for many notable and highly-collectible athletes," wrote VeeFriends in a blog. Some of the top NFTs in the collection have fetched hundreds of thousands of dollars. The one featuring Lionel Messi, for instance, sold for nearly 39.96 ETH (or $129,000) last year. The second highest-sold NFT in the collection features Mohamed Salah and fetched 35 ETH.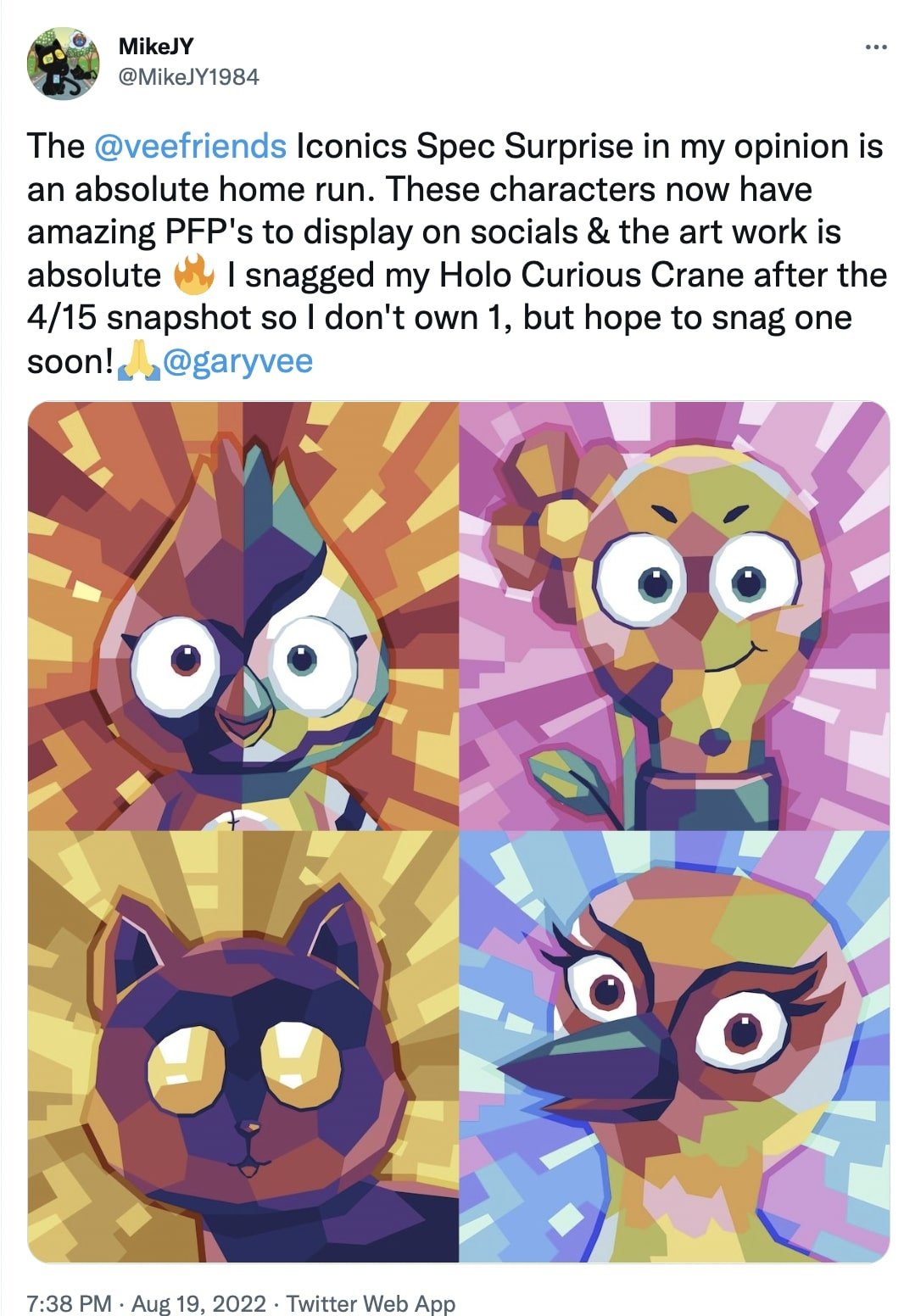 When it comes to the VeeFriends Iconics, the inspiration for the collection dates back to the 1990s. At the time, companies had started experimenting with different foils, materials, designs, and more to create trading cards.
"These never-before-seen patterns of texture and color brought a broader appeal to the trading card industry," the  blog adds. The rare designs also raised the value of the cards. VeeFriends is aiming for the same, thus opting for "an experimental nature and compelling refracted designs."
What Is The Utility Of VeeFriends?
VeeFriends has transcended its initial success, generating an impressive sales volume of nearly 79,000 ETH (equivalent to over $240 million) on OpenSea by October 2022. While the launch of the first 10,255 VeeFriends marked the beginning of this venture, GaryVee has consistently emphasized that Series 1 was merely the starting point for this dynamic collection. The utility of VeeFriends goes beyond traditional NFT collectibles, offering holders unique and special privileges. Notably, the "Mentor Meeting Mongoose" provides owners with three two-hour mentoring sessions in New York City annually, offering valuable one-on-one interactions.
The VeeFriends ecosystem includes 555 Gift Goat tokens, where holders receive thoughtful gifts from the VeeFriends team upon activation, spanning a minimum of six physical gifts over three years. Competition access tokens grant NFT holders the exciting opportunity to compete with GaryVee in various games, such as bowling, basketball, bubble hockey, and ping pong.
Moreover, 165 group access tokens unlock shared experiences with Gary and fellow VeeFriends NFT holders, fostering a sense of community. The 9,400 Admission tokens, available in different levels of rarity, guarantee access to VeeCon, the highly anticipated web3 conference.
The evolution of VeeFriends has further expanded with additions like Book Games, Mini Drops, and the debut of physical products featuring plush characters in October 2022, adding a tangible dimension to this thriving NFT ecosystem.
Gary Vee's Pre-Launch Program (PLP)
VeeFriends launched the "Pre-Launch Program(PLP). The idea behind VeeFriends PLP is to give upcoming projects a starting point in terms of building their own community. In exchange, PLP participants will donate 555 of their own project tokens to Vee Friends. Then, the project will randomly distribute the tokens to existing VeeFriends NFT holders.
The best bit about the Program is that Vee Friends holders may get NFT tokens from the next top NFT Project- all for free. 
VeeFriends Mini Drops
VeeFriends continues to captivate its community with the introduction of Mini Drops, surprise releases designed to bring ongoing excitement and joy to the ecosystem. The first in this series was the enchanting Spooky Vees collection, a limited set of 31 NFTs that animated 10 distinct VeeFriends characters, enchanting the community during Halloween in October 2021.
Following suit, Anwar's Self-Aware Hare marked another memorable Mini Drop, with 50 lucky holders receiving 3D versions of the hares as an exclusive airdrop. This special edition celebrated the Winter 2021 collaboration between VeeFriends and Anwar Carrots, the visionary behind an emerging streetwear brand. The Wolf Pack NFTs, a group of 2,552 with unique artwork by TerminatusX, pay homage to Gary's two wolf packs in the Wolf Game's Alpha Game. Mini Drops were awarded to wallets staked in Gary's wolf packs and to those owning a sheep or wolf VeeFriend from Series 1 or 2, adding layers of surprise and delight to the VeeFriends experience.
What are Gary Vaynerchuk's Book Games Tokens?
Gary Vee launched Book Games close on the heels of the announcement of his book, "Twelve and a Half: Leveraging the Emotional Ingredients Necessary for Business Success". Basically, this is a first-of-its-kind Layer 2 project that links to his book. Launched in August 2021, Book Games feature 125,000 burnable tokens in a game that's "played forever". Basically, its Gary Vee's own VeeFriends' version of the popular game uno. It's a lot of fun.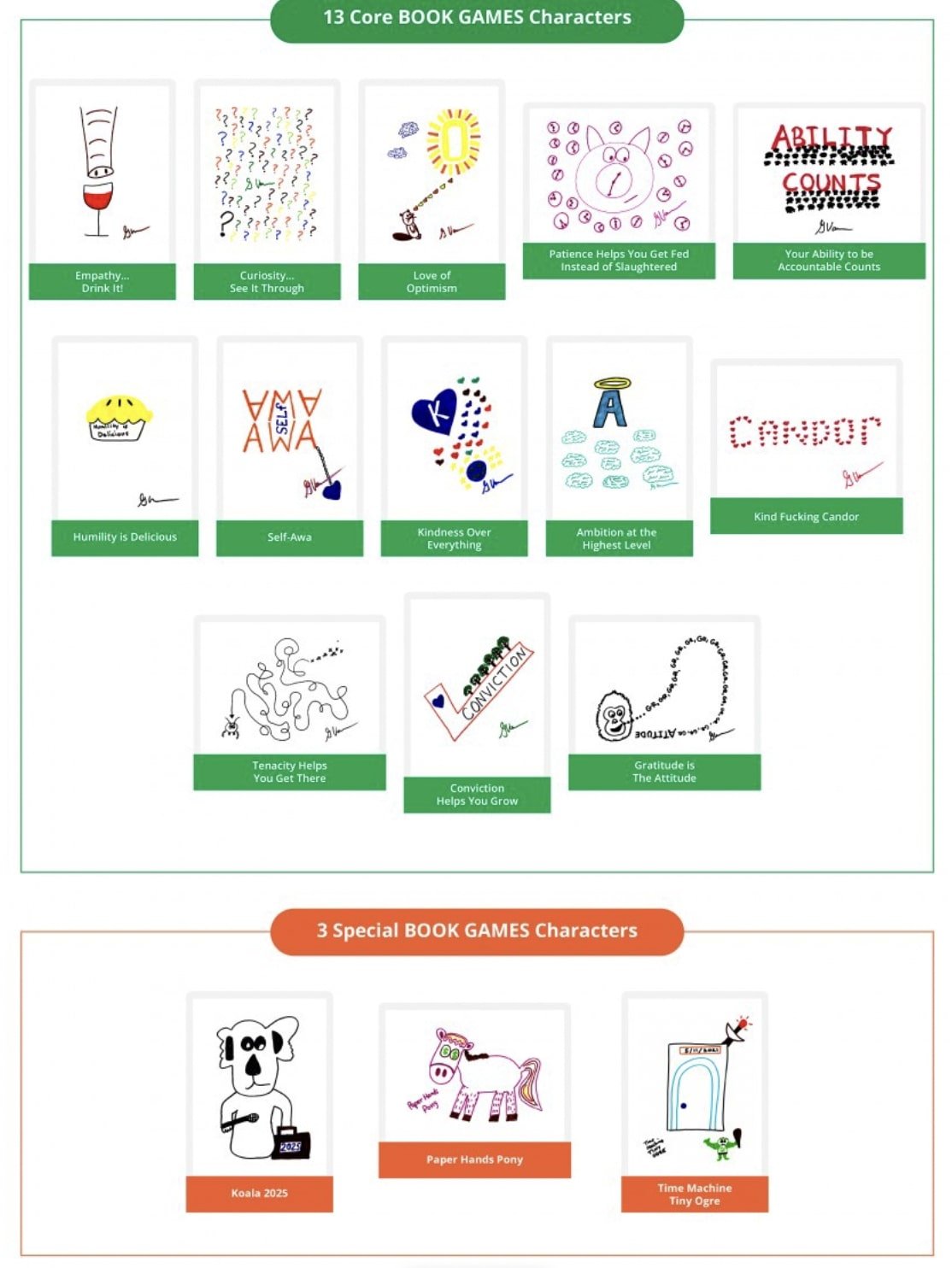 The Book Games tokens showcase 16 unique artworks hand-drawn by Gary. Within this, there are 13 core Book Games characters and three Special characters. Each drawing has five spectacular rarities and each comes in one of the 15 randomly generated frames.
In January 2022, VeeFriends launched the gamified version of Book Games. You can play using the tokens' various trading capabilities. For example, holders can either exchange their tokens for other NFTs, VeeCon tickets, and sports cards, or sell them. Holders were also eligible for the VeeFriends Series 2 Friendslist.
What is Veecon?
Veecon is a multi-day convention for VeeFriends holders and influencial people in the NFT industry. The convention focuses on entrepreneurship, marketing, ideas, creativity, community building, and more.
The VeeFriends team promised to give NFT holders a three-year (2022 – 2024) access pass However, this was only the beginning. In the following months, Gary Vee has only added more exclusive benefits to token holders.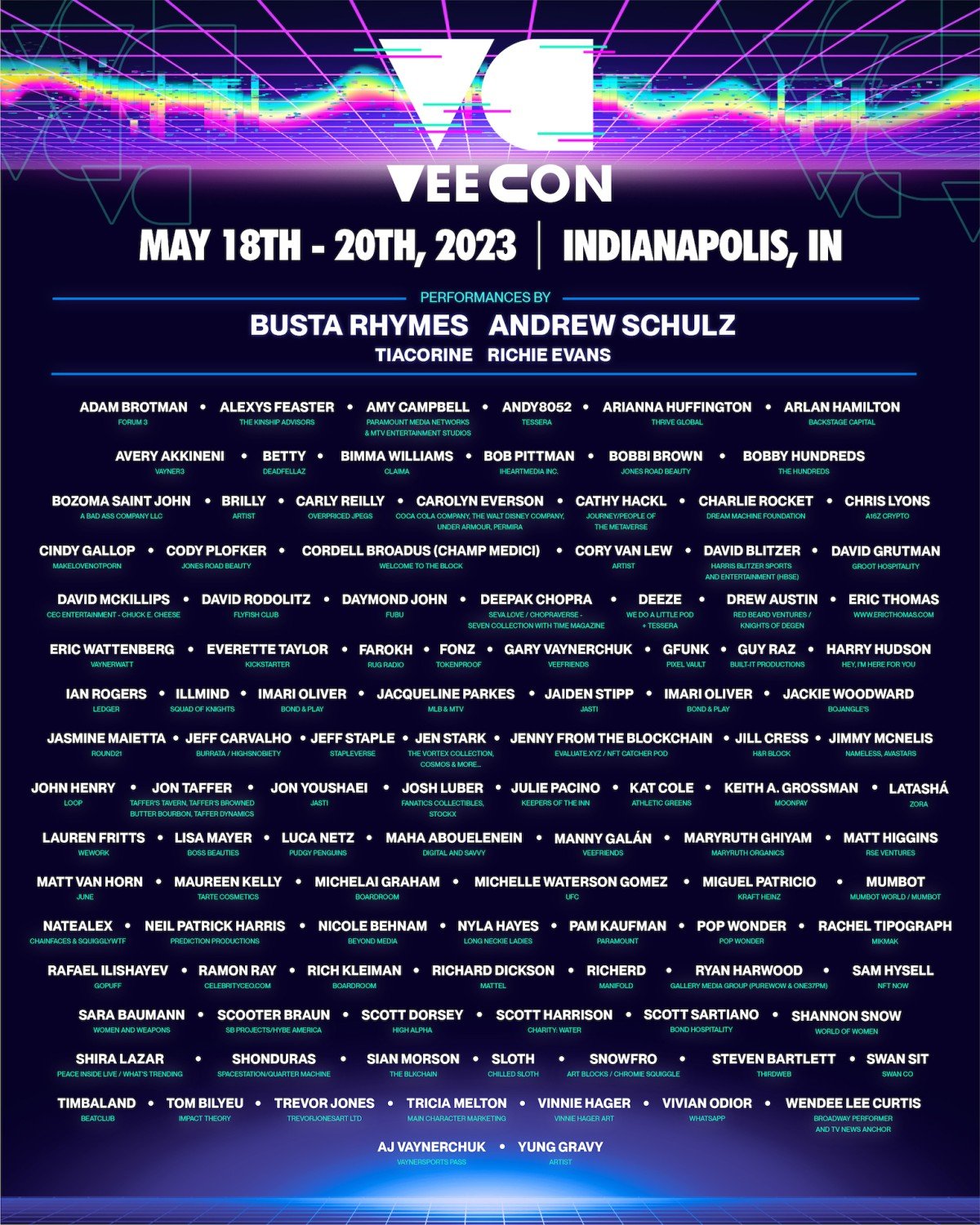 VeeCon features tons of amazing talks, galleries, installations and more from VeeFriends and other top collections. Check out our top 10 moments from Veecon to see what we mean!
Taking place in Minneapolis in May, VeeCon is one of the biggest real-life Web3 events of the year. Despite the strange coincidental timing of the 2022 bear market this year, VeeCon was a roaring success.
VeeCon 2023, held in Indianapolis, Indiana from May 18–20, emerged as the second annual NFT-ticketed superconference for the vibrant VeeFriends and Web3 community. With over 150 speakers, including prominent figures like Daymond John, Carolyn Everson, Everette Taylor, Arianna Huffington, and Neil Patrick Harris, the conference delved into the intersections of business, marketing, technology, innovation, and popular culture.
Beyond instructive content, the event showcased Busta Rhymes and Andrew Schulz for evening entertainment on Thursday and Friday, while Saturday featured Jordin Sparks as the headliner followed by a UNO tournament with Gary Vee.
VEECON 2023 revealed key takeaways, emphasizing the Web3 community's building phase and the prevalent discussion on the impact of AI on future business landscapes. Motivational speakers stressed the importance of authenticity, encouraging individuals to carve their own paths in business, resonating with the overarching theme of doing things one's way.
 Check out our exclusive Interview at VeeCon with Gary Vaynerchuk himself about how that journey was for him!
How do I buy VeeFriends NFTs?
Obviously, as the collection is now sold out, the only way you can get Series 1 VeeFriends NFTs is through secondary marketplaces like OpenSea and LooksRare. Although, floor prices may differ prices at various points in time. As of the time of writing, the VeeFriends collection on OpenSea hovers at around 1.86 ETH ($3470.22) for Series 1, and around 0.1049 ETH ($195.71) for Series 2 NFTs.

Whichever marketplace you choose, just ensure you're buying the official VeeFriends NFT Collection by checking for the verified badge. 
Why are VeeFriends So Expensive?
The most obvious advantage of VeeFriends is that it has the full backing of Gary Vee and his network. The project has already proved its commitment to providing utility to NFT holders. Even during the launch, Gary focused on rewarding his supporters rather than opening the gates to celebrities. In fact, he took the grass-roots approach and launched his project on Discord. Anyway, most vee friends see the NFT price as a small price to get access to the man himself. I mean, Gary Vee's net worth is over $200 Million, remember?
For all these reasons and more, some of the NFTs in the Vee Friends collection have sold for hefty sums. According to DappRadar data, Empathy Elephant (VeeFriends #2823) from the collection takes the top spot for the highest sold NFT. It fetched $489, 540.
VeeFriends Trading Cards: Compete and Collect
VeeFriends 2 Mint opened to Veefriends and book games holders in early 2022. With each primary purchase of a VeeFriends series 2 NFT, they offered a box of brand new collectible trading cards. Titled "Compete and Collect", the project created the cards in partnership with the trading card company, Zerocool.
Everyone who purchased Series 2 NFTs during the primary sale had the option to receive one box for every NFT they mint. Yes, completely for free! This was applicable to every primary buyer, irrespective of how they claim the NFTs.
Each box contains 52 random collectible VeeFriends cards that you can use to play the Compete and Collect game. Further, each card features a VeeFriends Series 2 character along with its score made up of its Aura, Skill, and Stamina. The rarer the card, the higher the player's final score.
The game is played between two players, who start out with an equal number of cards. Each player will flip their cards one by one and the player with the highest score will take the other player's card. Ultimately, the goal is to collect as many trading cards as possible.
VeeFriends Partnerships 
Since its launch, VeeFriends has partnered with several notable brands and other NFT projects to bring added utility to members. For instance, early last year, the project partnered with NFT collection Avastars to giveaway 1700 Avastar NFTs to Vee Friends NFT holders. Similarly, in December, it collaborated with the leading global toy company, Mattel Creations to launch a UNO deck featuring VeeFriends characters.
VeeFriends has also teamed up with streetwear brand, Staple to launch a limited-edition "collaboration capsule".  The "capsule" included a Heather Gray Hoodie, a Black Short Sleeve Tee, and an artwork embroidered baseball cap. On the other hand, the project collaborated with Empathy Wines to release a limited edition Empathy Elephant 2019 Cabernet Sauvignon. The wine label featured VeeFriends' character, Empathy Elephant. Last December, VeeFriends also partnered with LA streetwear designer Anwar Carrots Self-aware Hare Carrots merch drop.
Gary Vee introduces Burn Island
In a strategic move to manage the expansive supply within the VeeFriends ecosystem, Burn Island was unveiled in February 2023. Functioning as a deflationary mechanism, Burn Island allows VeeFriends NFT holders to transform their NFTs into potential physical or virtual prizes. The innovative concept involves sequential "Eruptions," each presenting unique rewards and NFT burn requirements.
The inaugural "Eruption" introduces the burning of Book Games NFTs, providing participants with the opportunity to win a prized Gary Originally Owned Series 1 Dynamic Dinosaur Spectacular Lava, valued at approximately 10 ETH or more in the current market. This marks just the beginning, as subsequent "Eruption" events are planned, featuring other NFTs from the extensive VeeFriends collections, fostering engagement and excitement within the VeeFriends community.
Why is Gary Vee so Bullish on NFTs?
As an ardent NFT supporter and collector, Vee Friends is not his only focus. Gary Vee has also championed several other NFT projects such as Fame Lady Squad, Women Rise, and World of Women. Boasting over 3 million Twitter followers, it's safe to say that Gary Vee is one of the most influential figures in the NFT ecosystem at present. If you're looking for a solid community, VeeFriends NFT project is probably a good start.
"There will be 45 years of building this brand. Imagine giant franchises like Pokémon and Star Wars. Except, Vee Friends will be based on positive character traits, it will be about human kindness, etc., changing the human race for good. That's the legacy." – Gary Vee
Indeed, VeeFriends NFT provides a blueprint for other projects to follow on how to bring value using blockchain technology— giving access, community building, and real-life utility. Yes Gary Vee has created a real life community of Friends coexisting in the NFT x web3 space.
---
All investment/financial opinions expressed by NFTevening.com are not recommendations.
This article is educational material.
As always, make your own research prior to making any kind of investment.