Free to Mint NFTs are nothing new. In fact, they have been around for a while, with some OG NFT collections like CryptoPunks being free to mint. Nonetheless, free to mint NFTs recently came under the limelight after the success of Goblintown.wtf. So what exactly are free to mint NFTs and what are some of the top collections in this category?
What are Free to Mint NFTs?
As the name implies, free to mint NFTs are a type of NFT drop where projects release NFTs at no cost, except for the gas fees needed to mint the NFTs. Mostly, projects of such mints are focusing on secondary sale royalties than primary sales earnings. In other words, every time an NFT in the collection is sold on the secondary market, the team earns a set percentage of royalties.
Needless to say, free to mint NFTs significantly reduce the entry barrier to the NFT space, especially for newbies. As we know, new NFT projects usually charge anywhere between 0.05 to 0.25 ETH per NFT—which is not affordable for everyone. 
Moreover, amid the current Bear market, NFT sales have also dropped, making free mints an attractive option. To add to this, some of these projects become extremely valuable in no time, making it a win-win. This was easily demonstrated by the success of the Goblintown project. 
Top Free to Mint NFT Collections To Know Today
Let's take a look at some of the top free to mint NFT collections that dropped recently.
Goblintown.wtf
Launched in late May, the Goblintown NFT collection quickly made headlines after hosting a weird Twitter Spaces. The collection features 10,000 hideous-looking Goblins on the Ethereum blockchain. Despite their ridiculous artwork and no apparent roadmap or utility, the NFTs were quick to climb sales charts, leaving many spectators scratching their heads (this writer included). What's more, the project even flipped some top blue-chip NFT projects!
Currently, Goblintown has the top spot on OpenSea rankings in terms of the last 30 days' trading volume. Already, the project boasts a 5 ETH floor, raking in over 35,400 ETH in total sales volume. How this free to mint NFT project achieved such tremendous success is anybody's guess!
We Are All Going to Die (WAGDIE)
Another free to mint NFT project making waves in the NFT space is We Are All Going to Die (WAGDIE). Following in on Goblintown's footsteps, WAGDIE too shot to fame after posting a creepy recording on Twitter. Not to mention how the WAGDIE team bought a MAYC NFT, only to burn it. The stunt did exactly what they were hoping for—a significant PR boost. 
WAGDIE includes a total of 6,666 NFTs, featuring pixelated, somber humanoids in medieval attires. Taking a cue from Goblintown, WAGDIE offers no roadmap or utility—it doesn't even have a website! Although the collection was launched on June 3, its sales have already reached nearly $11,000.  
However, the project is under fire for allegedly stealing artwork from the popular game, Magic: The Gathering. It remains to be seen if the project will bounce back. Its average sale price on OpenSea crashed from its early highs around the time that news came out. Even so, its floor price is now 0.29 ETH – better than a majority of NFT collections during this bear market.
For The Culture
The For The Culture NFT project was not only free to mint but went a step further to pay 0.01 ETH to the minters. The official Twitter page of the project reads, "No roadmap, no website. Just for the culture". Further, its OpenSea bio adds, "If you are reading this sh*t you came for the meme and stayed for the culture. Never underestimate the power of memes fcker."
The project began when NFT Influencer, Artchick tweeted about an idea of an NFT project that would pay minters 0.01 ETH. Creator Sibel took note and went on to create the For The Culture project. The collection, with 5,000 NFTs, has so far generated 2,100 ETH in sales. 
The Octagon by Deca
In May 2022, generative art platform Deca dropped 10,000 free to mint NFTs called The Octagon. Unlike the above projects, The Octagon is packed with utilities. For one, these NFTs work as membership tokens to Deca's first-of-its-kind metaverse, Decaverse. 
Notably, The Octagon can even become a Decagon. It starts at level 1 and holders can follow simple steps to go up the levels. The more levels the holder unlocks, the more the utilities they receive. Due to its unusual characteristics, the project has even attracted the likes of Cozomo de' Medici.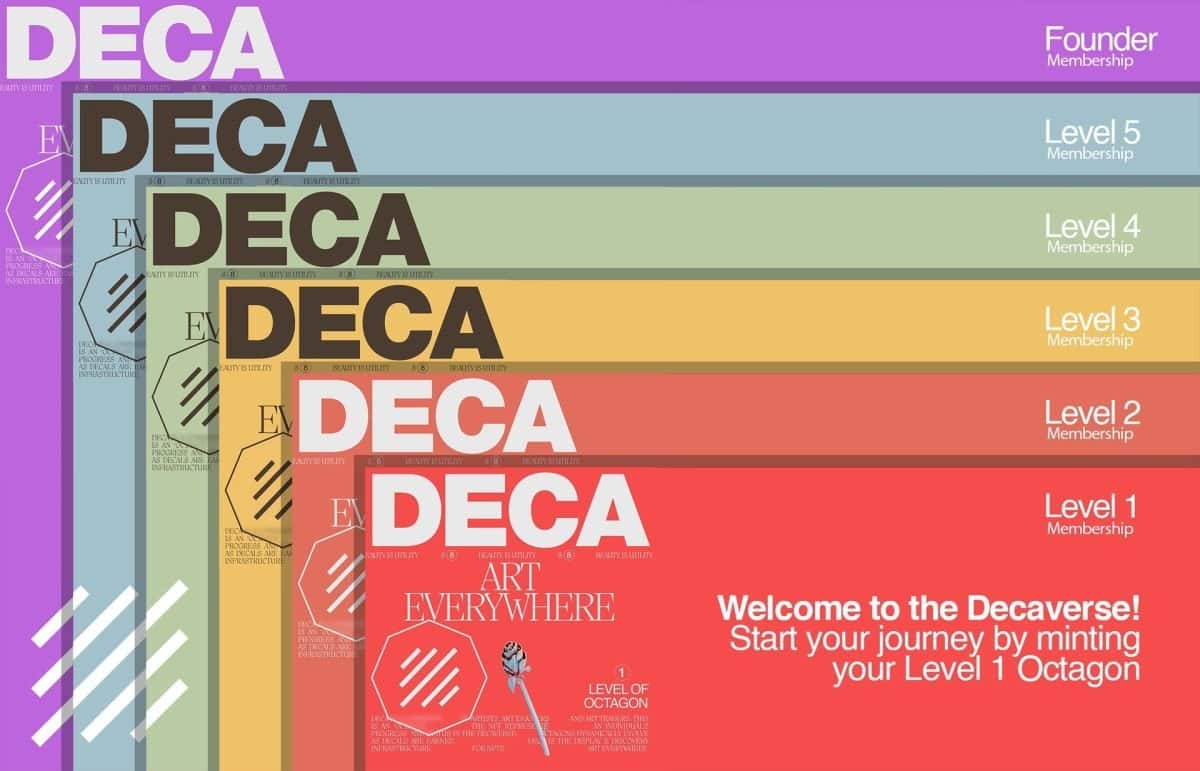 Tips to Mint Free to Mint NFT Collections
Amid the growing popularity of free to mint NFTs, scams are also becoming an increasing concern. Mostly, these scams use malicious smart contracts where the investors are tricked into parting with their NFTs. Therefore, it's important to take precautions to avoid free mint NFT scams.
Here are some tips to keep in mind:
Use a

burner wallet

to mint the NFTs. A burner wallet is separate from your main, permanent wallet and only stores a limited amount of funds. This way, even if the project turns out to be a scam, your valuable assets will remain safe. 

Keep your valuable assets in a hardware wallet and never use it to mint!

Learn the basics of

NFT smart contracts

so that you can spot any malicious functions within a contract.

Finally, do your due diligence before taking the leap. Don't click any suspicious and unverified links. Lastly, always double-check before connecting your wallet to any site.
All things considered, as with all NFT projects, free to mint NFTs also have their pros and cons. While some legit projects can get you into the NFT ecosystem without burning a hole in your pocket, others can be a scam or fail to pick up. At the end of the day, make sure to do your own research before making any investment decisions. 
---
All investment/financial opinions expressed by NFTevening.com are not recommendations.
This article is educational material.
As always, make your own research prior to making any kind of investment.