In solidarity with the plight of Ukraine, Bored Ape Yacht Club donated $1 Million worth of Ether to war relief efforts. What makes this gesture more touching is that the project actually matched the community members' own contributions. This development is a testament that NFTs are not just market shakers but also socially relevant.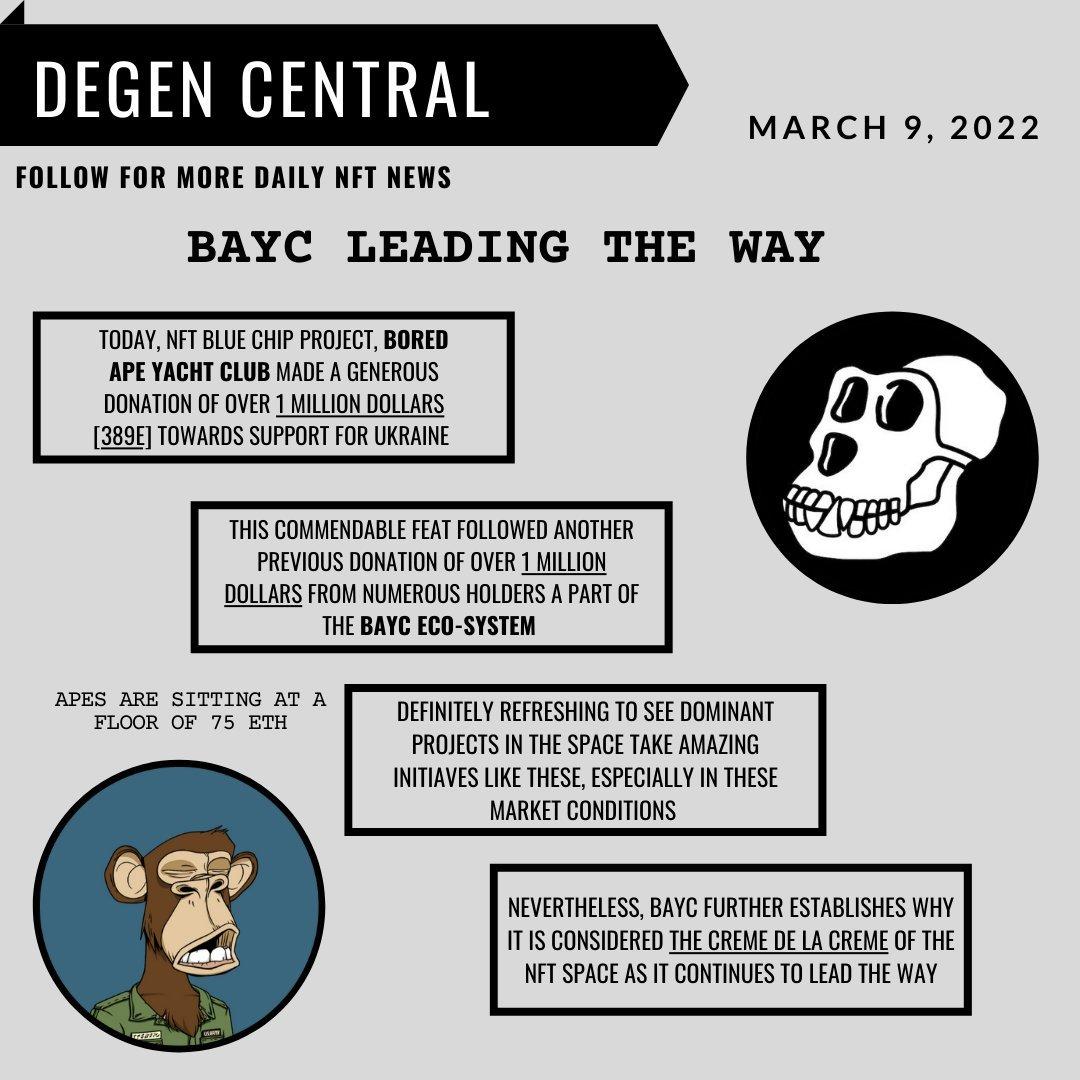 Bored Ape Yacht Club Donates ETH to Ukraine
The blue-chip collectible shared the Etherscan transaction link showing that it sent 388.999 ETH (a little over $1 million) straight to Ukraine's official Ethereum wallet address. BAYC tweeted that they were inspired to do this after seeing the community come together for the war-stricken country.
OpenSea ranks BAYC as the second-largest NFT collection of all time after OG collectible CryptoPunks. With over 417,000 ETH ($1.1 billion) in trade volume, the project has cemented its place as one of the most successful projects in the NFT space. One thing that made BAYC stand out was its community. The NFT holders are passionate, determined and engaged. They always go out of their way to support community-building initiatives, so it's not surprising to see the same energy level for worthy causes.
The community is praising the BAYC team for leading the way. One user quipped that this was the moment when "apes became goats."
It is also admirable how the project made a generous donation despite the market conditions. According to Crypto Slam, we are entering a mini NFT bear market. February saw a 40% decline in sales volume from January's $4.4 billion. In addition, the number of unique NFT buyers fell below 800,000, breaking a three-month streak. Despite the uncertainty in the global market, NFT content creators and industry leaders are rallying behind Ukraine.
NFT Community's All-Out Support for Ukraine
NFT collectors, enthusiasts and projects are giving their all-out support to raise funds for Ukraine. NFTs are proving to be an effective way to mobilize the industry in a swift, transparent and engaging manner. NFT drops are changing the game. Gone are the days of just collecting money, pooling it together and then turning it over to the beneficiary.
According to Merkle Science, Ukraine has received well over $88 million in cryptocurrency donations alone. Furthermore, the Ukrainian government currently has about $7 million in Ethereum in its wallet.
Meanwhile, Twitter NFT influencer and collector Zeneca has donated 11.11 ETH to support Ukraine on behalf of ZenAcademy and The 333 Club. A few days ago, an NFT of the Ukrainian flag sold for $6.75 million on March 2. NFT artist Ali Sabet and Ukrainian boxing superstar Wladimir Klitschko also released NFTs to support Ukraine.
---
Are you tired of missing important NFT drops?
Check out our NFT Calendar!
Receive the biggest NFT news of the day & recommendations in our Daily newsletter. 
---
All investment/financial opinions expressed by NFTevening.com are not recommendations.
This article is educational material.
As always, make your own research prior to making any kind of investment.